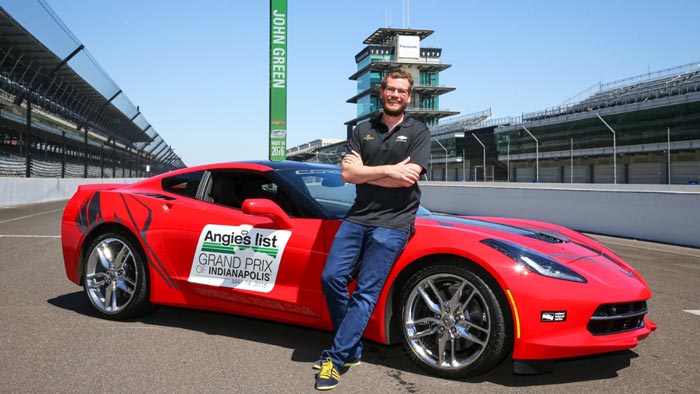 Chevrolet has made it plain that one of its goals with the C7 Corvette was to attract a younger fan base for its 63-year-old sports car.
Having the author of popular young adult fiction books drive a Corvette pace car at an Indianapolis Motor Speedway event might just help them achieve that goal.
Chevrolet announced this week that acclaimed author and Indiana native John Green – who wrote The New York Times No. 1 Best Seller The Fault in Our Stars that was turned into a No. 1 box office smash – will be driving a 2016 Corvette Stingray Z51 as the pace car for the Verizon IndyCar Series Angie's List Grand Prix of Indianapolis on Saturday, May 14.
"John is a huge IndyCar and Indianapolis Motor Speedway fan and we have been looking for the right opportunity to get him involved in one of the events," said J. Douglas Boles, president of the Indianapolis Motor Speedway. "Having him drive the Chevrolet pace car for the Angie's List Grand Prix of Indianapolis is a great way for him to be part of this historic month."
Green said it was "such an honor to be chosen to drive the pace car at one of the most iconic race tracks in the world – which just happens to be in my backyard."
Green's debut novel, Looking for Alaska, won the Printz Award in 2006 as the best book written that year for young adults.
"I'm looking forward to driving on the same track as so many of the greatest drivers in the world," he said.
Jim Campbell of General Motors praised the selection of Green, saying ""it's great to have a legendary author and a member of the Indianapolis community selected to drive the Corvette pace car for the Angie's List Grand Prix of Indianapolis. John will help kick off an exciting three weekends of action at the famed Indianapolis Motor Speedway."
By the way, the Stingray, with its 460-horsepower engine, will require no performance mods for its pace car role, just the addition of the light bar and fire extinguisher.

Source:
Chevrolet

Related:
GM's Mark Reuss to Pilot the Corvette Z06 Pace Car at Belle Isle
Collectible Corvettes: 1995 Indy 500 Corvette Pace Car
2014 Corvette Stingray Convertible to Pace the Inaugural IndyCar Grand Prix of Indianapolis