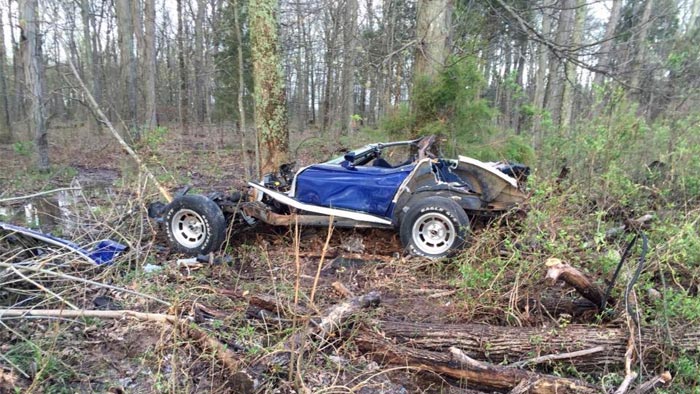 Photo Credit:
D&D Service Center & Wrecker Service

A crash of this magnatude between a C3 Corvette and a tree is usually followed by the unfortunate news that the accident had taken the life of the driver. According to this post on Facebook, the driver survived!
That news was posted late last week by D&D Service Center & Wrecker Service who are out of McKenzie, TN.
They recently worked an accident scene in Henry County in which the driver of a C3 Corvette somehow left the narrow country road and crashed into a wooded area.
The force of the impact ejected the Corvette's engine and transmission, which were found further down the road.
No word on what caused the Corvette to crash but based on the amount of damage sustained, it does appear speed would be a factor. Some however are pointing to a rusty looking master cylinder and suggest that brake failure may have been a contributing factor.
We tried to find more information on the accident but came up empty. We hope that the driver did indeed survive this wicked crash.
Click here to see all the pictures from the crash scene of this C3 Corvette.

Source:
D&D Service Center & Wrecker Service

Related:
[ACCIDENT] Corvette Stingray Damaged in Four Vehicle Crash in California
[ACCIDENT] Carjacking Suspect Crashes into a C3 Corvette During Police Chase
[ACCIDENT] C5 Corvette Bursts into Flames After Crash with Highway Median