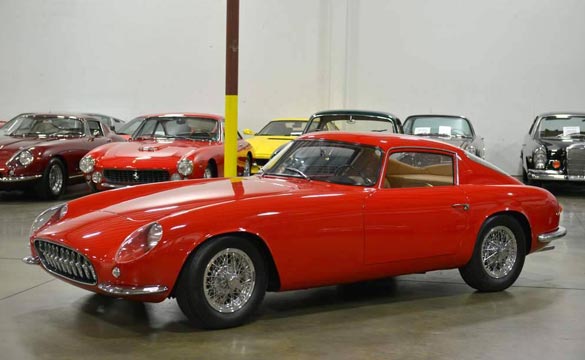 If you happen to have a strong desire for a very rare, Italian-bodied 1959 Corvette and were wondering what you were going to do with that spare million dollars you have laying around the house, we have two words for you—Scaglietti Corvette. Yes, one of the only three Scaglietti Corvettes that were ever made is now advertised for sale in Hemmings for only $995,000.
Scaglietti Corvette Number One
The Scaglietti Corvette in Hemmings is the first car made and the only one of the three to exhibit the toothy '59 Corvette grille, showing some pride in its American underpinnings. This car was also the only one to be completed in Italy before the project was abandoned—the other two were shipped to the U.S in pieces and were assembled here.
Number one also unique in that it was the only Scaglietti Corvette to come from Italy equipped with the fuel-injected Corvette engine and a four-speed manual transmission. Scaglietti Corvettes two and three were originally fitted with dual carb V8s and automatic transmissions, although they are reputed to have been retrofitted with fuel-injected Corvette engines and four-speed manual transmissions.
An Italian – American Medley
The chassis is pure 1959 Corvette with a solid rear axle and drum brakes, good ol' American meat and potatoes. The body, however, is exquisite Italian cuisine—aluminum sheet hand-formed over wooden bucks and dollies by old-school Italian craftsmen. The interior is also an Italian-American delicacy—Stewart Warner gauges, Corvette parking brake and shifter among deeply bolstered leather seats, a typically Italian black crackle-finish dashboard and exquisite door hardware—molto bello.
This is most definitely a once-in-a-lifetime opportunity to own an extremely rare Corvette without having to compete against the auction house bidders who keep jacking up the price. You'd even get some change back from your million dollars. Good luck!

Source:
Hemmings

Related:
The Scaglietti Bodied Corvettes
1963 Corvette Rondine to Appear at Corvettes at Carlisle
Rare Pininfarina Corvette Heading for Barrett-Jackson