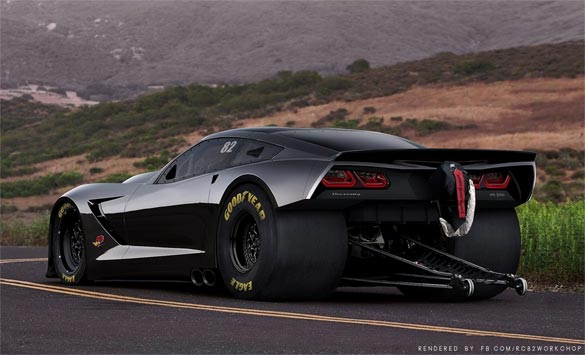 Some say the best photoshops are those that are somewhat based in reality. The reality is that when you see this "Hennessey HPE2000 Corvette Stingray drag car" for the first time, you may think it's real. After all, Hennessey Performance Engineering has made a name for themselves not only bring more and more horsepower to the Corvette Stingray, but also with their radical Venom GT program as well.
But alas, this is just a photoshop, "created for competition" says the note that goes along with the posting by RC82 WORKCHOP on Facebook.
We don't know what the competition is but sure I hope it's for someone looking to make this real instead of it simply being a school project.
We particular dig the treatment on the back with the back fascia cut in half to accommodate the huge drag tires while revealing the beefy rear end. With 2000 hp on tap, the wheelie bar and parachute will go along way to keeping this thing grounded and then helping to slow it after its run of 1,320 feet is complete.
On the front, a big hood bulge can be seen through the Plexiglas windows and windshield and the front wheel wells engulf the skinny Goodyear Eagles racing tires mounted up front.
But it's not real, it's just a rendering!

Source:
RC82 WORKCHOP on Facebook

Related:
[PIC] TopSpeed Renders the Mid Engine C8 Corvette ZORA ZR1
Car and Driver Dishes New Report on the Mid-Engine 2017 Corvette ZORA ZR1
C7 Corvette Widebody Rendered for a 2014 SEMA Project