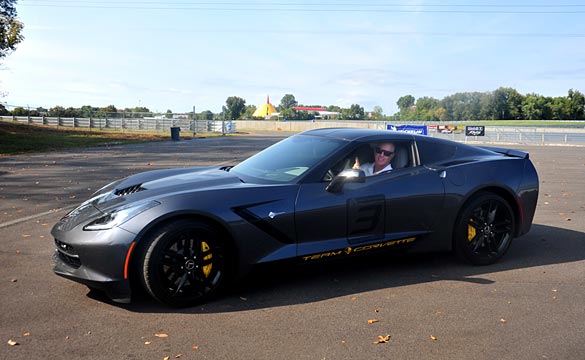 Photo Credit:
National Corvette Museum
Now that the Corvette Museum's Motorsports Park is open, we are starting to get some feedback from some of the professional drivers who have already visited the new track. Johnny O'Connell, one of the most successful racecar drivers in the history of the sport was recently at the track and we're interested to hear what he had to say.
O'Connell is well-known to Corvette Racing fans with a record eight wins at the 12 Hours of Sebring and the four class victories at the 24 Hours of Le Mans. Since his stint in the factory-backed Corvettes, he has gone on to win championships with Cadillac Racing.
Following his induction into the Corvette Hall of Fame in 2013, a special 1 of 1 C7 Corvette Stingray was designed in his honor and that was the Corvette he was driving when he visited the new Motorsports Park.
So how good is the new track?
In a news post on the Motorsports Park website, Johnny said "This track is great. It is world class, super-smooth, and challenging… it's a track everyone should make plans to drive on. What was especially cool about it was how I recognized the features of Le Mans when I got to them. I know that was the objective when they were designing and building it, and as someone who has been there, I can say that they pulled it off."
We understand from some of the folks at the NCM that O'Connell's visit to the track in the Hall of Fame Stingray will be featured in an upcoming promotional video for the Motorsports Park.
After taking in some laps at the MSP, O'Connell says that he might want to bring the Cadillac Racing team down to Bowling Green for some testing.
Someone once said "Build it and they will come" and it appears that old adage is working for the new Corvette Museum's Motorsports Park.

Source:
NCM Motorsports Park
Photo Credit: National Corvette Museum
Related:
[PICS] Corvette Museum Unveils Hall of Fame Corvettes for Johnny O'Connell and Wil Cooksey
National Corvette Museum Announces 2013 Hall of Fame Inductees
[VIDEO] Corvette Museum's 2013 Hall of Fame Induction Videos