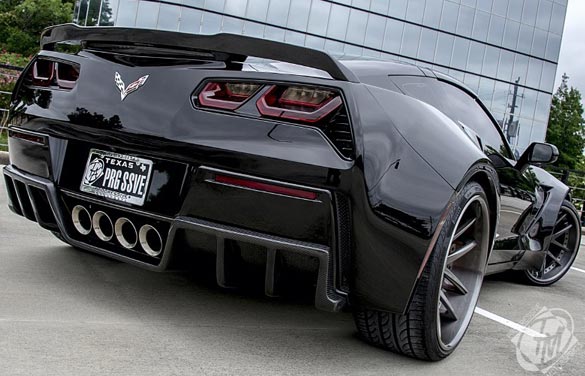 There's no doubt that the wide body of the upcoming Z06 adds dramatic features to the seventh-generation Corvette.
If you don't want the factory wide body, then you might want to check out Progressive Motorsports' custom widebody package for the Stingray.
The Texas tuner uses the Forgiato wide body treatment, and the photos of this all-black C7 show one awesome custom Stingray, that's for sure.
Progressive's kit adds a carbon fiber front splitter, carbon fiber rear diffuser, big flares on the front and rear wheel arches, custom side vents, and a boot lid spoiler, not to mention tinted lights and windows as well as custom concave wheels and red brake calipers.
You also get a very nice interior with all the electronic infotainment goodies and carbon fiber trim.
Of course, this unique Stingray doesn't come with a cheap price tag. It's on sale now for $139,000 – about $40,000 more than a fully loaded Z06. We're not sure it's worth the extra money, especially since we couldn't find any details about the car's performance on the company's website.

Source:
Progressive Motorsports via Motorward.com
Related:
Forgiato Widebody Corvette Stingray with Active Grill for sale on eBay
[PICS] It's Not Everyday You See a Widebody C7 Corvette in Antifreeze Green
Corvettes on eBay: 2014 Forgiato Corvette Stingray Widebody in Arctic White