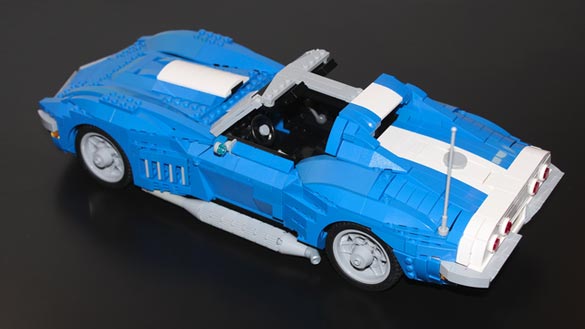 Like many Corvette enthusiasts, I've always loved the look of the 1969 Stingray.
Here's a fellow who took his love for the '69 'Vette a step further.
"Ever since I can remember I've always wanted a '69 Vette. So I built one," says Brickdater.
Not a real Stingray, mind you, but a re-creation using – of all things – Lego blocks.
As Brickdater says: "The Corvette was truly the first American sports car. The 1969 C3, with its Coke bottle curves and standout performance, was an icon of its era and is highly sought after today. Its immediately recognizable body shape is what drew me to try and create it in Lego form, and I couldn't be happier with the result."
This Lego artist has really captured the look of the Stingray, managing to include a decent-looking V8 engine, removable T-tops, a nice instrument panel, side pipes, four round tail lights, and even marker lights, all with Legos.
Now he's hoping to become the next winner of what's known as the Lego Ideas contest.
Basically, Lego offers fans a chance to come up with their own creation using their blocks. If a project gets 10,000 votes, it enters the Lego review phase. Then their review board evaluates and selects which project will become the next Lego Ideas product. Right now, Brickdater has more than 800 votes. If you'd like to help him win the contest, visit ideas.lego.com/projects/77779. If his idea winds up being selected, it would be produced in the Legos factory and shipped to stores, where you could buy your dream '69. Brickdater would even receive a percentage of the product's sales.
"I want to say a HUGE thanks to everyone for your support and comments!" Brickdater says. "I can't believe how much attention this project is getting. I'm so grateful, and it feels awesome that the hours and hours of designing, tweaking, ordering, and tweaking again are paying off!"
Check out all the pictures of the 1969 Corvette Stingray at lego.com.
Related:
Hot Wheels and Star Wars Introduce New Series with a Life-Sized Darth Vader Corvette
Vaterra Introduces New 1/10 Scale Corvette Stingray RC Car
The Evolution of the New Bright Toys Corvette Stingray