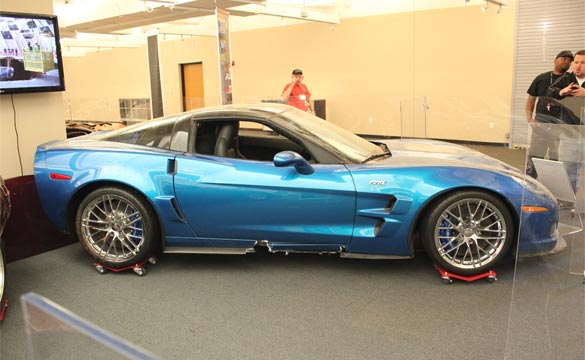 We've apparently learned the fate of at least one of the eight Corvettes swallowed up by the sinkhole at the National Corvette Museum in February.
The museum has announced that the 2009 Blue Devil ZR1 prototype – the property of General Motors and among the least damaged by the sinkhole – will be heading back to GM for restoration after the NCM's upcoming 20th anniversary celebration on Labor Day weekend. No one has said where the Blue Devil will be displayed after repairs are made.
Likewise, no one is saying for sure what will happen to the remaining seven cars, which are in various states of disrepair depending on where they happened to be in the pile in the sinkhole.
GM said the day after the sinkhole that it would oversee the restoration of all the Corvettes, but since they've all been removed from the earth, the automaker has been mum – merely saying it is discussing with the museum what to do with the cars with no date for a final decision having been set.
GM also owns the 1993 ZR-1 Spyder prototype that suffered extensive damage, perhaps too much to be repaired, so its fate is believed to rest entirely with General Motors.
The 1962 Corvette, according to the museum, was among the least damaged, and the museum has indicated that it will be restored under GM's supervision.
Several restoration experts have already expressed interest in repairing the car, which likely would be returned to the museum for display when completed.
The millionth Corvette built, a white 1992 convertible, suffered extensive damage but is felt to be worth saving due to its historic nature.
The 1993 40th anniversary Corvette was also badly damaged but is not historically significant since 6,748 others were built with the same package. In fact, a replacement has already been donated to the museum. Perhaps this is a good candidate to be left "as-is" for display there.
Three other cars also have questionable futures.
The 1984 PPG Pace Car had its rear section sheared off by a heavy slab of concrete. Some wonder if a restoration would just be a recreation of the original since so much fabrication would be needed.
Then there is the 2009 Corvette convertible that is the 1.5 millionth Corvette built. It suffered heavy damage, and some are wondering if it is worth restoring despite its numerical importance.
Finally, the last Corvette recovered from the bottom of the sinkhole, the 2001 Mallett Hammer, suffered the worst damage of any of the cars. Since it was an aftermarket tuner, some might question the level of its historic value. There are thoughts it might be best left as-is as a reminder of the damage done by the sinkhole.
Apparently, the sinkhole or at least part of it will likely remain as a permanent attraction since attendance and revenue at the museum are up substantially since.

Source:
Hemmings.com

Related:
Corvette Museum's Board Opts to Keep Part of the Sky Dome Sinkhole Visible
Corvette Museum May Leave Some of the Sinkhole Corvettes As Is
[VIDEO] Behind the Scenes of the Corvette Recovery Operation at the National Corvette Museum