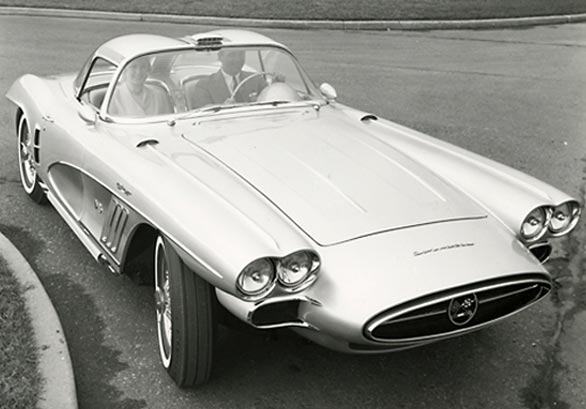 It's time for Throwback Thursday where we feature vintage photos of Corvettes. Here's a picture of a long lost Corvette Concept that served as the personal car for GM Style Chief Bill Mitchell.
Bill Mitchell was heading GM's Style Department in 1958 when he supervised the building of the XP-700 Corvette Concept. Built using many regular 1958 Corvette components, the red concept also had a number of custom touches including the long nose with the Corvette logo centered inside, "Grand-Prix" styled side vents in front of the doors, a side mounted exhaust system and rear brake ducts that were situated just behind the doors. Completing the "Grand Prix" look were the Dayton wire wheel covers.
Perhaps the most striking feature on XP-700 is the unique bubbletop. The plastic canopy was coated to help block the sun's rays and it also had a unique rear view mirror which was designed into the top and worked much like a periscope.
Mitchell drove the car personally for a year and then in 1959 XP-700 was further modified with an elongated rear that eventually would show up on the 1961 Corvette while the new front end featured large air scoops beneath the Lucas "Flame Thrower" headlamps. The Corvette was repainted to a pearlescent silver and it was shown at the 1960 New York Auto Show.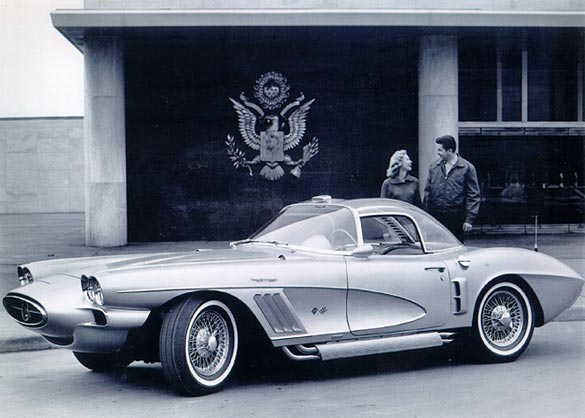 Powering the concept was a chevrolet 283 V8 engine rated at 230 horsepower and it was mated with a manual 4-speed transmission.
So what happened to the XP-700 Corvette Concept?
According to Mark Jordan, the son of GM Designer Chuck Jordan who designed the car, XP-700 was disassembled sometime in the early sixties and a Corvette concept labeled XP-755 was built on its chassis. It's better known today as the first Mako Shark Concept.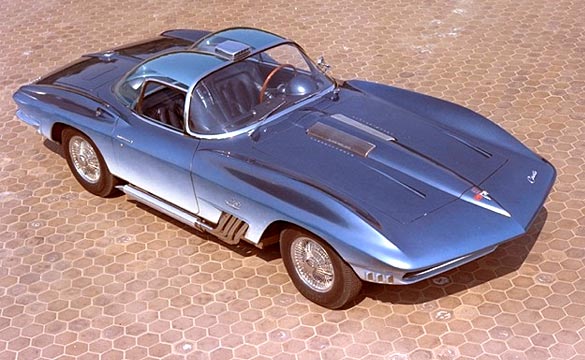 Source:
GM Heritage Center

Related:
[PIC] Throwback Thursday: The First Three Chief Engineers of Corvette
[PIC] Throwback Thursday: Zora with a Couple of 1971 Corvettes
[PIC] Throwback Thursday: 1978 Corvette Paces the Indy 500
[PIC] Throwback Thursday: William Shatner and a 1963 Corvette Sting Ray Sport Coupe
[PIC] Throwback Thursday: Motor Trend Tests the 1958 Corvette