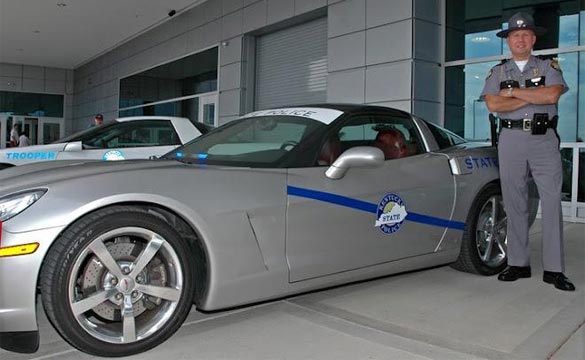 If you'd like for your new Stingray to have a special role in this year's National Corvette Caravan, then the National Corvette Museum would like to talk to you.
The Museum is looking for four 2014 blade silver or cyber gray 2014 Stingrays that will then have the honor of leading huge Corvette Caravans into Bowling Green on Aug. 27.
You won't get to drive your car. Instead, a Kentucky State Police trooper will be behind the wheel of each car, which will have KSP light cars installed temporarily across the top. But the owners will get to ride shotgun in their cars for the thrill of a lifetime.
The stipulations? The four Stingrays will need to be at the Museum Aug. 25 for the striping and installation of light bars, and then they will meet up with caravans at least 66 miles away. Rest easy, too. The cars will only be moved if troopers are behind the wheels and won't be driven until Aug. 27.
If you're interested, let the Museum know by e-mailing [email protected] or [email protected]. If more than four Stingray owners are interested, a drawing will be held.
This will be a very special Corvette Caravan, marking the 20th anniversary of the NCM. More than 30 Caravans are slated to roll into Bowling Green on Aug. 27 or Aug. 28, and National Captain Paul Mariano says that around 7,000 Corvettes will take part.
(In fact, this writer will lead the Georgia Caravan into Kentucky on Aug. 28, accompanied by the Florida Caravan, slated to meet up with us that morning in Acworth, Ga. If you're interested in taking part, e-mail me at [email protected]. But you better hurry. Last day to sign up via the Internet is July 21; you can still sign up on Aug. 27 at the NCM.)
Caravans have taken place in 1994, 1999, 2003 (moved up because it was the Corvette's 50th anniversary), and 2009.
In 2009, more than 4,000 people pre-registered for the Corvette event and 5,000 people attended.
Even bigger crowds are expected next month for the latest Caravan for several reasons, not the least of which may be the lure of the sinkhole that swallowed eight of the Museum's cars in February. Then there is the fact that it's the 20th anniversary of the NCM. It doesn't hurt that the seventh-generation Stingray has been a huge hit during the past year, and then throw in the opening of the NCM's new Motorsports Park that same weekend, and well, you get a feeling Bowling Green is going to be swamped with Corvettes and Corvette enthusiasts, come August.
Previous Caravans have drawn people from as far away as Australia (they rode in vans). In 2003, some owners had their cars shipped from Hawaii to California, then drove to Bowling Green in a Caravan. This year, Mariano expects participants from Austria, The Netherlands, Hungary, and England.
He recalled one previous participant who drove a 1954 Corvette without air conditioning from California to the Museum, passing through the Mojave Desert and temperatures of 115 degrees. How did he survive? That's a dedicated enthusiast, huh?

Source:
Bowling Green Daily News
Photo Credit: weku.fm
Related:
Ah-Mazing! Man Creates Corvette-Themed Maze in Cornfield
It's Time for the Annual Circle City Corvette's Beach Caravan
[VIDEO] Pebble Beach 2013: Corvette Caravan – Jay Leno's Garage