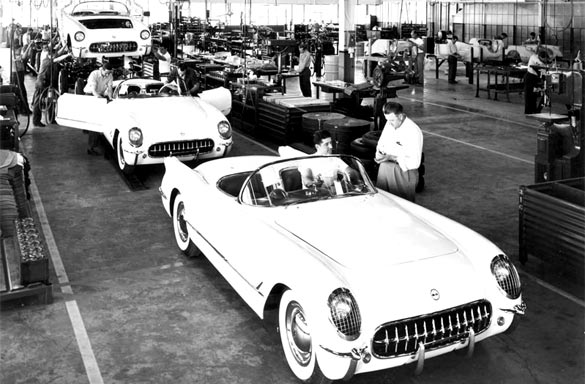 The sports car world was changed forever on June 30, 1953 at a temporary automobile facility in Flint, Michigan. That's when the first completed examples of Chevrolet's all new 2-seat roadster called the Corvette cruised off the line assembly line and into the hearts of America where would it remain for the next 61 years.
Codenamed "Opel", the Corvette was the brainchild of famed GM styling guru Harley Earl who wanted a small two-door roadster to compete with the small European roadsters that American servicemen enjoyed while stationed in Europe following the war.
The very first Corvette, EX-122, was completed and displayed at the GM Motorama in January 1953. Thousands came out to the Waldorf-Astoria in NYC to see the car and based on that feedback, GM rushed the Corvette into production with the first cars completed just six months later.
Chevrolet built 300 Corvettes over the course of the 1953 model year. A uniform design allowed the workers to concentrate on putting the bodies together without being distracted by trim and equipment variations. Therefore, all 1953 Corvettes were Polo White with Sportsman Red interiors and equipped with a canvas soft-top, 6.70 x 15 whitewall tires and a Delco signal-seeking radio. Also standard was a 5,000-rpm tachometer and a counter for total engine revolutions. The Corvette's original base price was set at $3,498.00.
Despite its unique fiberglass body, most of the components for the Corvette came from existing Chevrolets. The 250 ci Blue Flame Special 6-cylinder engine came from Chevrolet trucks. A triple-carb intake was added which did enhance the power and provided the roadster with a little more zip. The two-speed automatic transmission that was sourced from Chevy passenger cars was hardly the stuff of legends, but the little 2-seater could do 0-60 mph in 11 seconds and had a top speed near 105 mph.
Demand for the Corvette was unprecedented in its inaugural year. The month after the first Corvettes rolled off the assembly line, GM issued a notice from the Central Office which proclaimed: "No dealer is in a position to accept firm orders for delivery of a Corvette in 1953." About the only way to drive a new 1953 Corvette in 1953 was to be either a GM executive or be among a group of high profile customers like Hollywood movie star John Wayne.
Today's Corvette is a world away from the revolutionary two-seater that started it all 61 years ago. But that feeling of excitement and anticipation when the car first cranks up and heads out on the open road is just the same today for Corvette owners today as it was in 1953.
The 1953 Corvette is still one of the sought after and collectible models in Corvette's 61 year history. Proof that some cars to indeed improve with age.
Related:
Information Wanted: 1953 NASCAR Corvette
[PIC] Corvette Makes First Public Appearance 61 Years Ago Today
The $2.5 Billion Economy Surrounding the Chevrolet Corvette