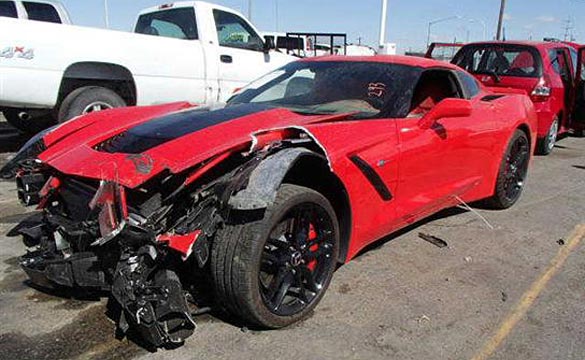 You really hate to see this.
A wrecked 2014 Corvette Stingray with only 293 miles on the odometer sitting in an insurance auction lot waiting to be sold.
Somebody's baby no more.
The pending auction was spotted by our friends at Corvette Online who, like us, can only wonder what could have caused the significant front end damage which deployed both the driver and passenger airbags.
Did we say 293 miles!
That's less than the wrecked Corvette Stingray with only 562 miles we previously covered. At least that guy was able to get it out of the break-in mode.
Selling the car is the State Farm Group Insurance company. The value of the Corvette is listed as $70,065 and the estimated repair cost is a whopping $38,482. The auction page says its waiting on a certificate which is probably why a date of sale has yet to be set.
The good news is the auction will be open to the public if you're so inclined to want some Stingray bits and pieces for a project car. The location of the Stingray and the auction is Albuquerque.
Check out these photos of this low mileage wrecked Corvette Stingray:
Sometimes bad things happen to good people. Let's hope the driver and passenger that were in this wrecked 2014 Corvette Stingray ended up okay after a front-end collision totaled his brand new ride.

Source:
Insurance Auto Auctions via CorvetteOnline.com

Related:
[ACCIDENT] 2014 Corvette Stingray with 562 Miles is a Totaled Mess
[SAVE THE STINGRAYS] Wrecked 2014 Corvette Stingray on Ebay
[PIC] Wrecked C7 Corvette Stingray