A Brownsville, Ky, driver faces multiple charges after a Saturday afternoon joyride in a 1993 Corvette turned into a wild airborne crash.
Miraculously, both the driver and the passenger escaped the accident with their lives.
Christopher Snelling, 41, faces the criminal charges after the black Corvette he was driving eastbound on Mammoth Cave Road left the road at a high rate of speed, between 85 and 90 mph, and went airborne for 160 feet before crashing into the ground and making a large indention.
Snelling didn't have his seatbelt buckled, nor did his passenger, his 14-year-old stepbrother Theron Snelling. Both were ejected from the vehicle and had to be flown by helicopter for treatment in Nashville.
WBKO-TV reports that the teenager was treated and released from the hospital and was back at school Monday.
No word on the condition of the driver.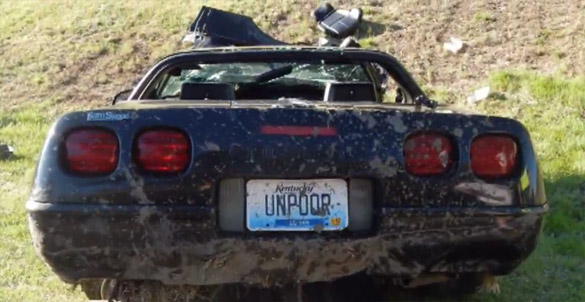 Lawmen blamed the accident on two big factors, alcohol and speed, and noted that just before the crash, Snelling almost hit a family of five from Ohio traveling on the same road.
"After consulting with the Commonwealth's Attorney, criminal charges will be filed against the driver," said Ricky Sanders of the Brownsville Police Department.
Sanders added that Snelling will likely face five counts of "wanton endangerment" because of the near-collision with the Ohio family, as well as assault charges for the injuries suffered by his stepbrother.
Afterwards, the Corvette, meanwhile, looked like it might have been at the bottom of the sinkhole at the National Corvette Museum, with the front fenders and hood demolished.

Source:
WBKO

Related:
[ACCIDENT] Mississippi Man Cannonballs His C5 Corvette into a Ditch
[ACCIDENT] 2014 Corvette Stingray with 562 Miles is a Totaled Mess
[ACCIDENT] C3 Corvette Gets Clipped By Drunk Driver in Arizona
[ACCIDENT] New Hampshire Man Faces DUI Charges in C6 Corvette Crash