Karen Bedell has always loved muscle cars, thanks to the influence of her slightly older brother, Keith Jarvis, as they grew up in Baton Rouge.
Still, the responsibilities of ordinary life prevented the Louisiana native from buying her first Corvette until just a few years ago.
In fact, that initial purchase just arrived in 2009 when she bought a used navy blue coupe. She's definitely made up for lost time in the years since, however.
Her current ride is a 2011 Grand Sport convertible that she bought new in August 2011. This is no trailer queen as she has definitely used the Corvette the way engineer Tadge Juechter and his crew meant for it to be. She's already burned up four sets of tires in two years, while running up 60,000 miles on the odometer.
Karen is a great ambassador for the Corvette, always willing to share her enthusiasm with other potential converts. She's participated in 50-plus homecoming, Mardi Gras, and patriotic parades, not to mention the Corpus Christi Vettes & Jets on the Lexington event. She definitely believes in using her Corvette, but not abusing it, and her careful maintenance has led to 17 "best in class" trophies and 18 winning plaques in area car shows.
Karen has also added her own personal touches to her Corvette. She's used her skills as a seamstress to design and create her own leather console cover and seatbelt covers that match the stripes on the exterior of the car. As if that weren't enough, she also has hand-painted (not air-brushed) the hood liners of both of her Corvettes and has even done the liners of many other Corvettes in her club, too.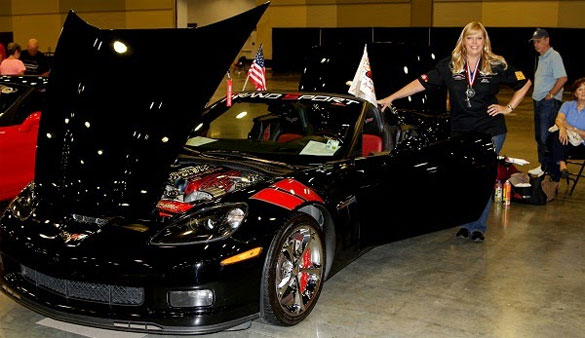 A big crowd favorite at shows has been her installation of colored strobes and red LED lights to illuminate the hood liner and side vents of her Grand Sport.
Karen isn't one of those owners who just does 30 mph along the scenic route, either. The feisty grandmother has raced autocross with her brother, trained one-on-one at No Problem Raceway, and conquered tough roads like the Tail of the Dragon in Tennessee and the Tail of the Pig in Arkansas at high speed.
Here's a parting quote from Karen about her Corvette:
"I have always driven with two feet, a huge advantage racing and stopping on a dime. My Vette is an automatic with the option of using paddle shift which allows me to drive with all fours, quite a thrill and an advantage at high speeds. Corvette is the only American-made sports car that has its own independent plant and its own engineers concentrating on this one car. I consider this car to be safer than any I have driven because I can quickly move ahead of traffic and they definitely keep their eyes on this car."

Source:
torquenews.com

Related:
Chevette Girl Finally Gets Her Corvette
North Dakota Woman Enjoying Life in the Fast Lane in Her C4 Corvette
Virginia Man is Fulfilling Life Long Dream to Get His Kicks on Route 66