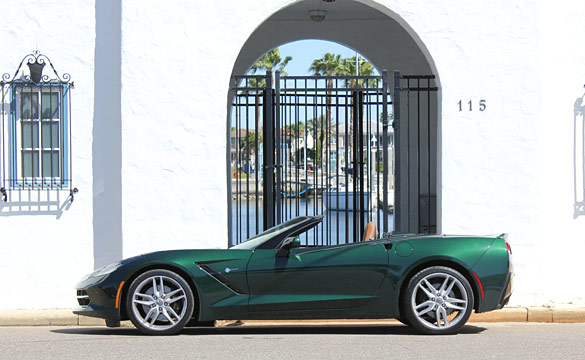 These are indeed Golden times for the Corvette Stingray, literally.
The latest award of many presented to the 2014 Stingray during the past few months came this week in Washington at the Annual Gala of the Washington Automotive Press Association.
This time, the Stingray and its development team received the Golden Gear Award for breathing new life into the Corvette while respecting its treasured past.
"We felt that the team managed to breathe new life into the C7 in a way that both embraced the model's storied past and invited drivers to dream about its future," said WAPA President Melanie Batenchuk, editor of Be Car Chic.
She called the new Corvette "the quintessential American performance car," praising "its powerful and efficient small-block V8" as well as "its lightweight construction."
"The 2014 Corvette showcases the best of 21st century automotive technology wrapped in a shell that evokes the '63 Sting Ray," Batenchuk said.
Auto journalists and manufacturer and industry representatives from across the United States attended the WAPA Annual Gala.
The Golden Gear Award dates back 30 years and is presented to an individual or organization for making an outstanding contribution to the automotive industry.
Stacy Summers, district sales manager for Northern Virginia and Washington, D.C., for Chevrolet, accepted the award on behalf of the Corvette development team.
Likewise, Russ Clark, director of marketing, mid-size, performance, and compact utilities for Chevy, thanked WAPA for the honor.
"The Corvette Stingray delivers world class technology and performance by every measure," Clark said, "and breaks new ground visually, while remaining instantly recognizable as a Corvette. It truly lives up to its iconic legacy."
The goals of the Washington Automotive Press Association are to improve communication between automotive journalists in the Baltimore-Washington area and the automotive industry, regulators, and other related groups and further the accuracy and quality of automotive journalism.

Source:
WashAutoPress.org

Related:
2014 Corvette Stingray Wins "Best of the Year" Honors from MotorWeek
[VIDEO] 2014 Corvette Stingray Named North American Car of the Year
[PICS] 2014 Corvette Stingray Named North American Car of the Year