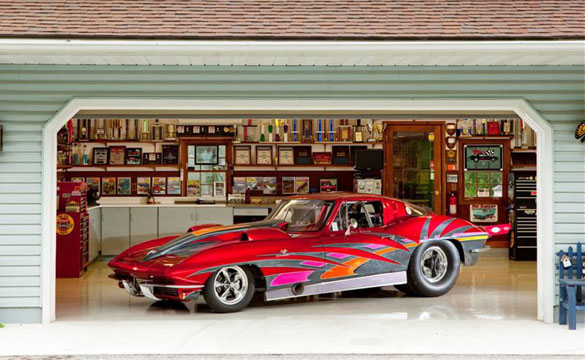 Back in 2009 we first told you about Rod Saboury's wicked street legal 1963 Corvette drag car. The 2,600 hp monster will run the quarter mile in a mere 6.75 seconds at 209 mph. Then, in late 2012, the car showed up on eBay where it failed to sell in October. Now you've got another chance to score this sick whip when it crosses the Barrett-Jackson auction block next week in Scottsdale, Az.
Billed as the World's Fastest Street Legal Car, it will be offered as Lot 5027 on Saturday January 18th as part of the Salon Collection at Barrett-Jackson.
Rod Saboury is northeastern racer with 3 drag racing world championship and 8 world records to his credit. He built the car over a 5 year span by starting with an $800 1963 Corvette coupe body and a vision. The body was lengthened 12 inches in three places and then widened 3 inches in the rear. The body still wears the original VIN plate and the car carries a correct title. House of Kolor Candy Brandywine paint, candy neon graphics and marbleized accents give the car its unique appearance. The interior is painted to match that stunning exterior.
Underneath the body is a complete chromoly double frame rail tube chassis built to full NHRA specs. The heart of the beast is a 2,600hp (that's 5.65 LT1 C7's) small block 427, with 1,700 lb-ft of torque force fed through a pair of 88mm turbos.
Other cool features include a built-in camera and headset, original style roll up headlights, power windows, plus door operated interior lights. There are even backup lights, turn signals, and cupholders. Yes, cupholders. What type of beverage does one carry in a 209mph drag car?
You can check out the Barrett-Jackson auction listing for the rest of the dirty details on this quarter mile terror.
As you'd expect this car has won awards at numerous shows including SEMA and Super Chevy Shows. It's been featured in multiple publications around the world including far off locations like Sweden, Australia, and South Africa.
Back in 2012, the price tag on eBay was $675,000. Since this is Barrett-Jackson Scottsdale we expect this monster will bring at least that number and probably more.

Source:
Barrett-Jackson

Related:
Corvettes on eBay: The World's Fastest Street Legal Drag Car
[VIDEO] 1963 Corvette is World's Fastest Street Legal Car
SEMA 2012: Rod Saboury's 1963 Split Window Black Widow Custom Corvette