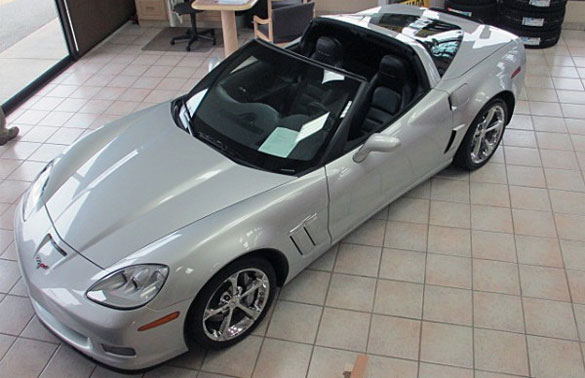 For some, the lure of owning a Corvette is sometimes taken to extremes.
Take this 2011 Corvette Grand Sport for example.
The car must have made one heck of an impression on someone as it was stolen from a Canadian car dealer last week by being driven through a glass window.
Penticton's Royal Canadian Mounted Police Force (RCMP) responded to a report of broken glass and a Corvette that sped away from Huber GMC in Penticton, British Columbia.
Police observed the Silver Corvette traveling at a high rate of speed and the car was clocked by radar doing 220 km/h (137 mph). Officers decided not to initiate pursuit and put out calls to the neighboring RCMP post in Summerland. Roadblocks were set up to capture the thief but he must have turned off the highway before reaching those checkpoints.
The Corvette is described as being a 2011 Special Heritage Edition Grand Sport Corvette which probably means the Corvette Coupe was outfitted with the GS Heritage Package.
If you have any details regarding the Corvette Grand Sport, call the Penticton RCMP at 250-492-4300 or Crime Stoppers at 1-800-222-8477.

Source:
Castanet.net
Photos courtesy of Penticton RCMP
Related:
2001 Corvette Z06 Stolen from Minnesota Car Lot
[STOLEN] 1962 Corvette Stolen In Pacific Grove, CA
Thieves Steal a 2003 Yellow Corvette in Virginia