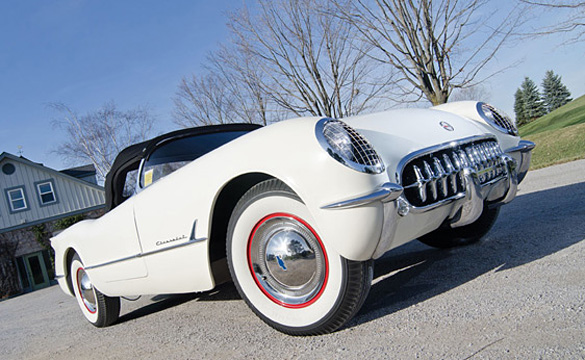 It didn't quite reach the pre-auction expectations, but the third-oldest Corvette in existence still sold for a whopping $445,500 at the RM Auction in Arizona on Friday, Jan. 20, 2012. The car was predicted to sell for between $450,000 and $650,000 but fell short of those targets – though still one of the highest priced 1953 Corvettes ever sold.
Serial Number #005 has a long and documented history, beginning with its purchase on July 16, 1953 from Wilmington, Delaware's Diver Chevrolet by Crawford Greenewalt, who was either president or chairman of the board of DuPont Company from 1948 to 1967, as a gift for his wife, Margaretta DuPont Greenewalt.
According to a 1980s interview, once the car was assembled, GM Styling Chief Harley Earl drove it to a friend's Ford dealership, and after that it made its way to the Ford Motor Company Engineering Department, well before many of Chevrolet's own staffers even saw the car themselves.
Number 5 is apparently one of the first three examples ever sold to the public and as such features unique early production features. Among its many interesting features, Number 5 is the last 1953 Corvette produced without an outside rear-view mirror, and it was one of the handful of early Corvettes fitted with a stainless-steel VIN tag, as opposed to the later aluminum version. This car was also built with a chrome speaker grille, and Corvettes 4, 5 and 6 were the only 1953 models sold to the public with basic chrome Chevrolet Bel Air hubcaps. The original frame for Corvette 5 is one of the 12 "pilot run" Corvette frames built, which were utilized for the Motorama cars, the engineering bucks and the first six production Corvettes. According to John and Melanie Kocsis, who bought the car in 1997 and began a lengthy and intensive restoration, the frame for Corvette 5 is stamped #10 in two locations, the same as the number-stampings on the frame of Corvette Number 6.
It's interesting to note that the Corvette, which was based on the EX-122 concept of 1952, is still one of the few GM Motorama designs with their space-age, show-car styling virtually unchanged for production. More than 300,000 spectators turned out to see the car in early 1953, and production began in Flint, Michigan just a few months later on June 30, 1953.

Source:
RM Auctions
Photo credit: RM Auctions
Related:
[VIDEO] Zora's 1989 Corvette Sells for $27,000 at Russo and Steele
[VIDEO] 1968 L88 Corvette Roadster Sells for $625,000 at Russo and Steele
1953 Corvette VIN #005 Heading to RM Auction in Arizona