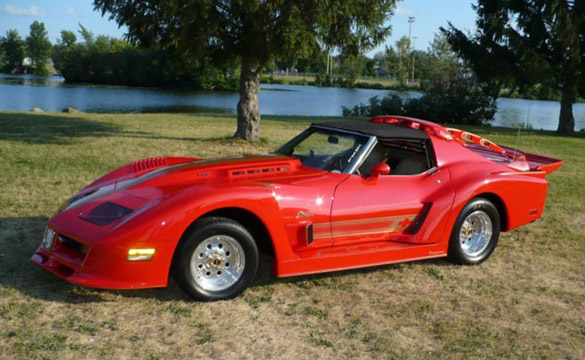 The folks at Jalopnik run a regular feature called "Nice Price or Crack Pipe," which aims to get its viewers' thoughts on certain, uh, different vehicles.
Recently, the site asked its viewers to rate this, uh, different 1976 Corvette Stingray that to some may represent all that was wrong with that decade of styling excess.
If the 2014 Stingray isn't quite audacious enough for you, Jalopnik says this could just be the vehicle for you.
The car was first doctored up with a Greenwood Daytona kind of wide-body look, but then the, uh, artist got a little carried away with even more custom features that begin with a pair of flying buttresses behind the rear vertical window.
They then added to the effect with a huge main spoiler, another secondary spoiler, a rooftop air manager, and two speed hole sporting connectors – not to mention a chrome luggage rack and louvers. Maybe they were running a close-out special at the local accessory store, huh?
The engine compartment and interior tone it down quite a bit, with decent-looking chrome under the hood and stock seats and a little bit of wood on the door panels and dash.
Of course, beauty is in the eye of the beholder, and the ad for this car proclaims that it has won multiple awards, though Jalopnik wonders if those honors might include "most vomit-inducing."
Jalopnik admits that overall the car does appear to be in "exemplary" condition, if you can get past its looks, with the Viper red paint, fiberglass work, and interior "all exhibiting an air of quality."
Oh, did we forget to tell you that all this, uh, quality work is available to the right buyer for just $39,900?
The seller might want to jump on the first offer, however, based on the overwhelmingly negative results of the Jalopnik poll, which found just 5 percent (188) of the people voting for the option "Nice Price: If looks could kill, this Corvette would be on the FBI's most wanted list" but 95 percent (4,o07) going with "Crack Pipe: There's not enough Peyote in the world."
Of course, that's the beauty of America. Out there somewhere is someone who will buy this car and believe in his heart that it is the coolest, most beautiful Corvette ever. To each his own, huh?
You can see the for sale listing of the custom Corvette at Hemmings.com Classifieds.

Source:
Jalopnik.com

Related:
Corvette Museum to Raffle the 2013 Andy Pilgrim Tribute 427 Convertible on Friday
[PICS] The Corvettes of the 2013 Detroit Autorama
Man Builds Replica Speed Racer Mach 5′s from C4 Corvettes