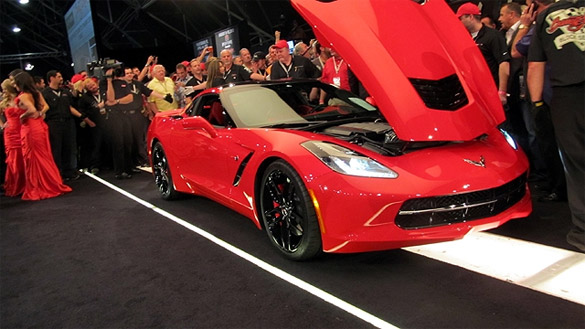 Photo Credit:
SPEEDTV.com
CorvetteBlogger was the first to tell you the 2014 Corvette Stingray Coupe would be sold at Barrett-Jackson and tonight the red Stingray made its auction debut at the collector car auction in Scottsdale. Offered by General Motors is the first Retail VIN #001 2014 Corvette Stingray and the proceeds of the sale would go to charity.
Introducing the Corvette Stingray was General Motor's Vice President of Global Design Ed Welburn and Corvette's Performance Marketing Manager John Fitzpatrick.
Rick Hendrick spoke with SpeedTV earlier in the day and confirmed that he wanted the Corvette, and win it he did with a top bid of $1,050,000. He also spent $1,000,000 on the 1969 Owens/Corning L88 Corvette that appeared on the auction block just before the new Stingray, so that makes him our new hero!
As the winning bidder, Hendrick will be able to pick and choose how to outfit his new Corvette, which will be wearing VIN# 001. Welburn also offered to allow delivery to take place inside the Corvette design studio, where the Stingray was created.
Proceeds of the sale will be donated to the College for Creative Studies, a four-year design school located in the heart of Detroit, Michigan.
Welburn said of the College of Creative Studies:
"When you think about the desigers of this car. And the sculpters of this car. And the designers of all the cars here at Barrett-Jackson. Where did they come from? Many of them came from the College of Creative Studies in Detroit. One of the finest design schools, not only in America, but in the world and that's where the money is going to go to."
The 2014 Corvette is expected to go on sale sometime in early third quarter 2013. MSRP has yet to be set but Chevrolet says if you can afford the current C6 Coupe, you should be able to afford the new 2014 C7 Corvette.

Source:
Barrett-Jackon
Photo Credit: SPEEDTV.com
Related:
GM Chairman/CEO Dan Akerson Raises $270,000 for Charity with Sale of 1958 Corvette
Corvette Museum to Raffle Kirk Bennion's 2013 Night Race Blue Corvette ZR1 on Thursday
[PICS] The 2014 Corvette Stingray Revealed