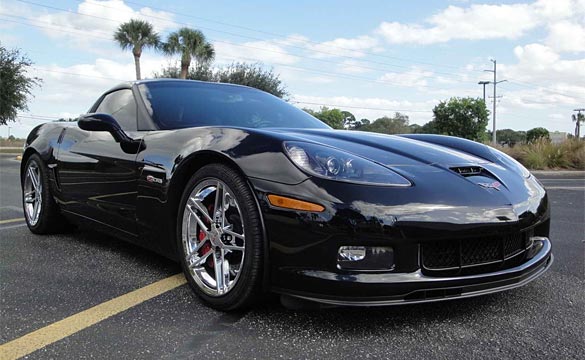 As car enthusiasts let's take a few moments to reflect on the state of the automobile and what has become an avocation for most of us as we close out 2012 and enter 2013. Simply, we find ourselves surrounded by the fastest, best handling and most technically advanced performance cars ever produced. No doubt about it. For those of you whining over the "muscle car" era of the sixties and early seventies get over it, you're showing your age! If you don't know it, this is the real "muscle car" era and we should all realize it and be thankful for it.
If you are not convinced, show me one car from the sixties that can outperform a Corvette Z06 or a Camaro ZL1. And if you still aren't convinced how great things are as we closeout 2012, think back to the late seventies and eighties and the only cars available to us then. You do remember how Lee Iacocca saved Chrysler with the "K car" and the minivans don't you? Exciting times. I don't think so. You must remember when the "hottest" performance cars' speedometers topped out at 85 MPH and a car with 200 HP was considered to be a performance car? Looking back, yes even to the "muscle car" era of the sixties, was there any production car produced that could compare in performance and build quality to the performance car of the last few years? If there was, I'd like to know what it is. Simply put we are witnessing the greatest performance era of the automobile, bar none. And for that I can say "Lucky me!"
If that isn't enough, we also find ourselves inundated, almost overcome with car-related activities of every type. This past summer in Michigan I commented to another "car guy", during a Friday night gathering of FBody owners on Woodward Avenue, that I could participate in a "cruise" event every night of the week throughout the summer if I wanted. In addition to nightly cruises there were car shows and special events weekly. Some of them, major events such as two of the largest, lengthy and legendary auto events in the country, The Woodward Dream Cruise and Flint's Back to the Bricks® Car show and the supporting events which go on ten days prior to the official date. It is almost inconceivable but these two events run concurrently, only an hour's drive between the two, and together they draw over a million people! A million people turned out to either watch or be a part of the events in some form or other.
Michigan does not have a lock on the number and quality of auto-related activities going on. Every major metropolitan area has numerous events and activities available for the enthusiast throughout the weather-friendly months. If you don't believe that then just go into any regional section of a forum and check out events. I recently put together a "Snowbird Calendar of Cruises and Events for Corvette Clubs in Arizona". Just like in Michigan, I can find a cruise event to go to almost every night between October and May. On Saturdays I can make it an "all day Corvette marathon"; Corvettes and Caffeine® starting at 8 in the morning until about 11, then a Corvette club luncheon from 11:30 until 1:30 and then off to the Scottsdale Pavillions for the oldest cruise-in in the country from 3 until about 9 or 10 at night.
Like Phoenix, in every metro market you'll find an event that you can enjoy and participate in: car shows, cruise-ins, autocrosses, races, rallies, drive and dines, tech lectures, parades, power tours, and the list goes on. One of the Corvette Clubs in Phoenix has the motto, "If you're not having fun it's not our fault!" and that pretty much sums it up and applies to what events are available in most metro markets. Never have there been so many events for the automobile fanatic. And once again I say, "Lucky me!"
Even when you can't get your car out of the garage because the snow is too deep, don't despair! There are other auto-related venues you can enjoy without leaving the comfort of your home. The most obvious is TV. There are some of you old enough to remember when there were no automobile or motorsports programs on TV. Hard to imagine, but in the fifties the only TV coverage pertaining to automobiles were the advertisements for the "Big Three" US auto manufacturers. Except for some local TV coverage around Indianapolis during the Indianapolis 500 there was no racing of any type to be found on TV. Automobile racing and motorsports didn't debut on TV until the sixties. No NASCAR, no Formula 1, no American LeMans, no Indy car (USAC), no SCCA Runoffs, no Dirt Track racing, no Drag Racing. You get the point.
It was not until the early sixties that auto racing made its debut on national TV. I remember my excitement when I found out that the Grand Prix of Monaco was actually going to be shown on network TV in 1962. For the first time in my twelve years I was able to see a Formula 1 car actually racing. Before that I could only read about, look at pictures, and dream of them. It wasn't until the seventies before national TV networks realized the motorsports "golden goose" had just started to lay the "golden egg" of TV coverage.
Today there are at least two cable TV networks devoted to nothing but the automobile. In addition every major race is also broadcast on either network or cable TV. If you have cable, dish or direct TV you can watch several automobile programs any given hour of the day. Every conceivable type of motorsports is covered from mud racing to rock crawling. It is hard to find an hour of the day during the racing season when you can't find something on TV about NASCAR. Today every major event in Formula 1, Indy Car, NHRA plus a plethora of European and Australian racing is covered in depth.
In addition to the motorsports coverage, over the past decade TV has discovered that there is a huge market for reality based automobile and motorcycle programs. "American Chopper" just ended their ten year run. We can watch Chip Foose building another "Riddler Award" car, or Wayne Carini chasing another classic car and losing money on his latest auction recommendation. We can watch Ryan on "West Coast Customs" build a custom Camaro for Rascal Flatts. SPEED®, formerly Speedvision®, discovered covering the Barrett Jackson® auctions on national TV was also big business. Then Velocity® TV jumped on the bandwagon broadcasting Mecum® auctions. Now each of their several auction events is covered in depth. Mecum's Kissimmee auction and Barrett-Jackson's Scottsdale auction will each be televised over forty hours, many of those hours broadcast "live". Never before has there been so much coverage of automobile events of every type. And as an enthusiast I say, "Lucky me!"
But of course, if you are reading this you know that we have another source of automobile entertainment, the internet. This is the largest source of every type of automobile information available. It would be impossible to go into all of the different type of sites and information available to us 24/7. It will suffice to say, you can virtually find out any type of information you need on your car, or any car for that matter, from "how to" technical information to production information and specs. History, production information, and specifications for virtually any production car ever produced are available at a moment's request. There are sites to decipher a VIN and even report how rare or unique a particular car may be. You want to know how many C5, Speedway White with Red/Black interior, Z06's were produced, you can quickly find out that there were only 137 produced and only in 2001. You want to know the right performance cam to install in your LS2, the best clutch set up for racing, how to install twin turbos on your LT4 or anything at all, it is all there, a click away. You can watch thousands of "YouTube®" videos on absolutely any and everything auto related. And finally let's not forget the "forums", where you can share automotive ideas and thoughts with others of similar interests. And as an automobile aficionado I say, "Lucky me!"
As the checkered flag comes down on 2012 you have to be aware that performance is alive and well, like never before. The ZR1 Corvette, like the one that just beat the Viper at Laguna Seca is only one of several testaments to that. Throughout the automotive industry outstanding performance cars are being built and each year the bar gets raised a little higher. Certainly the new Viper is a contender and Ford's new GT500 looks like it will be some serious competition to the new Corvette as well. No longer when someone in a Mustang pulls up next to us can we take it for granted that they will be sucking our exhaust fumes. And all this is not only okay, it's great! It signifies just what I have been saying: the performance automobile is thriving like never before.
Just a few years after the entire US auto industry almost went "belly up", we have been rewarded with cars that were almost unimaginable thirty years ago. Who could conceive that we would be driving street legal production Corvettes that could top 170 MPH? And when GM declared bankruptcy who of us did not worry that we may never be able to drive another new Corvette, much less an entire new generation of Corvettes. The very fact that through the most adverse times in the company's history, the engineers and designers at GM were able to not only keep the dream alive but to produce an entire new generation of Corvettes touted to be the best ever. That remains to be seen. There are several "naysayers" out there criticizing the C7 which the pundits have never even seen, much less driven, but my bet is that GM will deliver us the best Corvette ever, in every respect.
Regardless though, whether the C7 first year car has 450 HP or 475 HP, we still live in the most exciting times in automotive history. We not only have the best cars, we have more venues to enjoy them, more exposure to motorsports and activities of all types. We have more information at our fingertips to fix, upgrade, customize, restore and simply enjoy our cars. As the green flag is waved for the start of 2013, the Golden Age of the Automobile is upon us and the hobby.
That's something I would have not thought possible twenty five or even five years ago. We are living it, a part of it. And as an enthusiast I can say, "I'm damn lucky!"

Related:
[VIDEO] Official 2012 Woodward Dream Cruise Video from Chevrolet
1961 Corvette Gulf Oil Race Car a No-Sale at Mecum's 2012 Kissimmee Auction
2013 Corvette ZR1 Beats Out 2013 SRT Viper for Lap Record at Laguna Seca