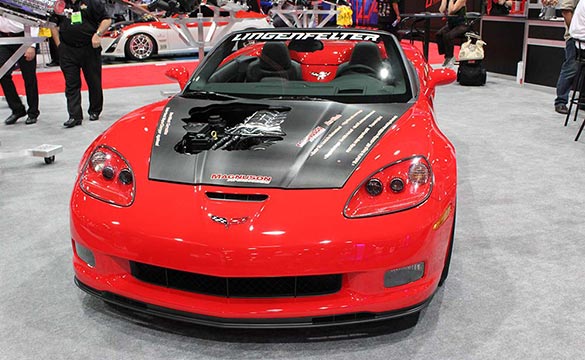 C6 Corvette owners looking for more power have often turned to supercharging their LS3 engines but in doing so, it often required the expense of adding a new high rise hood to insure the proper fit. At the 2012 SEMA show, we learned that Magnuson will be offering their new "Heartbeat" TVS supercharger that fits under the stock hood of an LS3-equipped Corvette.
Magnuson's TVS 2300 supercharger will unleash your LS3 C6 Corvette's true potential and will deliver maximum performance while retaining factory-like drivability and reliability. The system utilizes the latest 6th Generation supercharger rotor technology from EATON that is also found in high-end GM performance vehicles like the Corvette ZR-1 and the Cadillac CTS-V.
The Heartbeat supercharger comes as a full kit and will fit under the stock hood of 2008+ LS3-equipped C6 Corvette. The system gives a healthy boost in horsepower and is rated at 526 RWHP, plus you have piece of mind as Magnuson offers a 3-year/36,000 mile warranty.
Under the hood fit – no modifications required
High-flow inlet forward design
Supports larger throttle bodies
Dual F1; dual-pass intercoolers
17 pounds lighter than the traditional TVS 2300 system
tested to tough O.E. reliability standards
Black Powder coat or Polished units available
3-year/36,000 mile warranty
The Magnuson Heartbeat TVS 2300 Supercharger kit is priced at $8,590 for the black powdercoated version or add $1,200 more for the polished unit. The new "Heartbeats" will be available in December 2012 for LS3 engines and then additional applications for other LS engines will be rolled out afterwards.
With no tale-tell signs of engine modifications, your Magnuson-equipped LS3 Corvette will be a wolf in wolf's clothes.

Related:
SEMA 2012: Guy Fieri's Custom 427 Convertible Corvette
[VIDEO] Vic Edelbrock Shows Off Supercharged Corvette Z06 on Adam Carolla's CarCast
Callaway Shows Off First Supercharged 60th Anniversary 2013 Corvette 427 Convertible