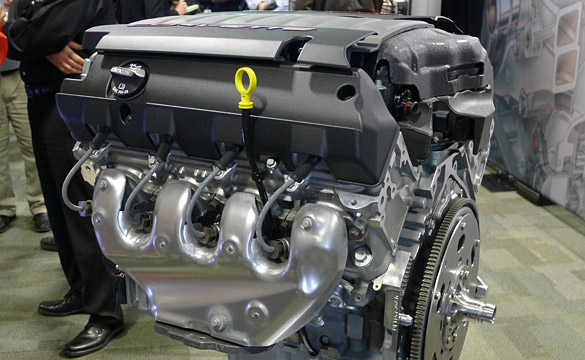 The new Corvette will mean more than just an exciting new car for enthusiasts.
In Tonawanda, in the western part of New York, it will mean the creation of hundreds of jobs at the town's General Motors engine assembly plant.
Officials announced this week that the Tonawanda plant will be the site where the C7 Corvette's state-of-the-art LT1 V8 engine will be built starting early in 2013.
"We have done pretty much bread and butter engines for a while," said Mary Ann Brown, plant communications manager. "We haven't done a Corvette engine in a long, long time. We are very excited."
The new Corvette engine will be anything but bread and butter. Chief Engineer Tadge Juechter says the powerplant will be the most powerful standard motor ever in a Corvette – with at least 450-hp.
The stage was actually set back in 2010 to build the LT1 engine, which is GM's Generation 5 of small-block engines, when the company announced a $400 million expansion at the Tonawanda plant for renovations. That work included removal of old equipment and adding new technology along with laying down new concrete on the floor of the factory.
Building the engines will mean more than 710 jobs for Tonawanda.
"And we brought back 130 people from layoffs when the program started up," Brown said. "No one is currently laid off."
The engine will not only be very powerful with 0-60 times of 4 seconds, but it will also get more than 26 miles per gallon, with exact figures still pending.
Ironically, the Tonawanda plant built the first small-block Corvette engine in 1955. Five years later, V-8 power helped the Corvette secure its first racing victory at the 24 Hours of Le Mans.
Source:
Tonawanda-News.com/

Related:
[PICS] The 2014 C7 Corvette LT1 Reveal Presentation
OFFICIAL: 2014 C7 Corvette to Feature 450hp 6.2 Liter V8; Revive LT1 Name
[VIDEO] Watch the 2014 C7 Corvette's LT1 Engine Build Animation
Return of the LT1: 2014 C7 Corvette to Get 450hp V8 Engine