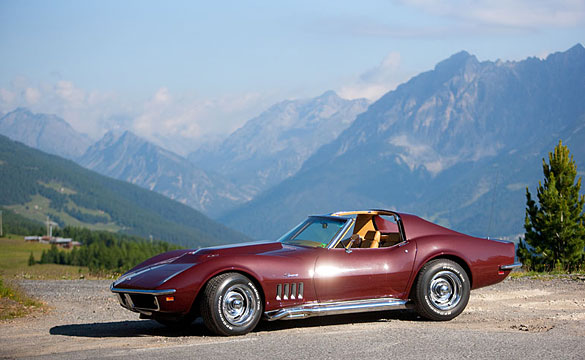 While perusing the Corvette Forum a couple days ago we stumbled across a thread created by member "Zuendler" who recently took his 1969 Corvette through the Italian, Austrian, and Swiss Alps. We always love hearing these stories about owners driving their cars on long journeys and his breath-taking photos intrigued us even more. No passport is needed to see more shots and a video from his incredible trip after the jump.
We reached out to "Zuendler" for more information his travels. Markus (his real name) tells us that the trip was in response to a challenge from a German classic car magazine. They threw down the gauntlet to classic car owners: drive your classic car through the 10 highest roads in the Alps, write a story about your trip, and potentially win a prize. Sounds like the perfect road trip for a big block 1969 Corvette!
Markus' 1969 Corvette coupe was originally born with a 427, but currently sports a 502 in it. It had a tri-power 454 during his tour of the Alps. Thanks to a leaking head gasket, a small oil consumption issue, and the owner's need for speed, the 502 recently replaced that 454. The side pipes and L88 hood were added by the original owner sometime prior to 1975. Markus bought the car in 2010 and did the extensive restoration on it. You can see more of his work on his website.
Markus' trip started near Stuttgart, Germany and took him through the Stelvio Pass (8,500ft) in Austria. You BBC Top Gear fans may already familiar with this road. From there he was off through some small villages in Italy, through the Gavia Pass (8,000ft), and then on to the Umbrail Pass (8,200ft) and down into Switzerland. Next up was the Timmelsjoch Pass (8,100ft) back in Austria on then onward to Gross Glockner mountain which is the highest peak in Austria at 12,241ft.
We won't get into too much more detail on his trip. Like Markus told us: "…the pictures often say more than words." If the magnificent scenery and bellowing big block don't inspire you to get out and drive your Corvette, nothing will.
For those of you fluent in German, you can read the article published in Old Time Market.
Here is the video from Zuendler as he drove his Corvette on the Northern side of Stelvio Pass:

Source:
CorvetteForum.com
Related:
[VIDEO] Epic Drives: Corvette ZR1 Chases 200 MPH in Europe
[VIDEO] European Vacation Corvette Style
[PICS] Norway's Corvette Club Celebrates 20th Anniversary