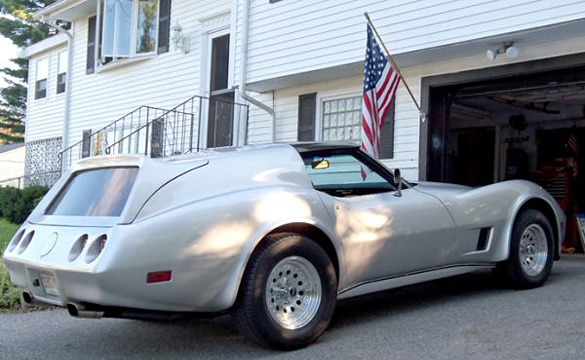 So you want to set out on a trip across America in your two-seater C3 Corvette, but don't want to hook up a U-Haul trailer behind it?
Well, a Boston-area man has just the ticket for you on Craigslist – a 1974 custom Chevrolet Corvette Panel Wagon.
We remember seeing these conversion kit cars back in the day but haven't seen one in years, other than flipping through some old copies of Corvette magazines.
This car, which is listed on Craigslist for $25,000, was built by hand by the original owner and he says it underwent a frame-up restoration within the past five years.
This is definitely not your everyday run-of-the-mill Corvette. From the T-tops back, the rear has been replaced with a custom-made station wagon body making it look somewhat similar to a Corvette hearse, with solid fiberglass on each side and a narrow glass window on the back. We're not sure how easy it would be to drive since it appears to have major blind spots, but you could definitely fit some luggage in there on your trip!
The car features power steering, brakes, and windows and has many new parts, including wiring harness, tires and wheels, brakes, calipers, rotors, carpet, seats, door panels, console, and shocks, along with a rebuilt TH400 transmission.
The Flowmaster dual exhaust with headers no doubt makes this unusual Corvette sing a pretty tune as it vents the GM 350 crate motor installed less than 1,000 miles ago with a Holley carburetor, polished Edelbrock manifold, and chrome valve covers.
The odometer reads just 44,378 miles.
Get packing and go see the USA in a Chevrolet!

Source:
Corvette Online
Related:
1991 Callaway Corvette Speedster For Sale in Arizona
Corvettes on Craigslist: 1980 Duntov Turbo Convertible
Corvettes on Craiglist: 1969 Finovette by George Barris