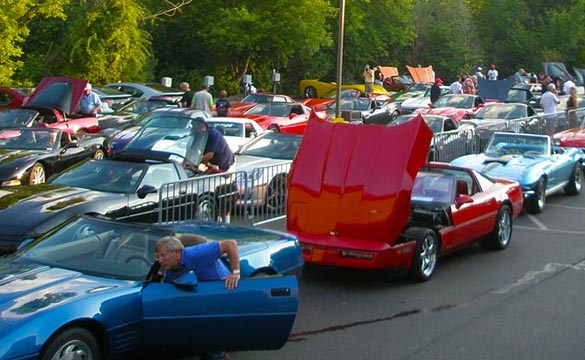 Each year on the Wednesday before the annual Woodward Dream Cruise Corvette enthusiasts gather to support the Open Hands Food Pantry in Royal Oak, MI. Over the last few years organizer Larry Courtney has grown the event from a one-day cruise down famous Woodward Avenue to a multi-day festival of all things Corvette. This year's festivities kick off on Wednesday August 15th. Read on the see all of the activities on deck this year.
The main attraction of Corvettes on Woodward is the Wednesday night cruise down Woodward. Last year a record 563 Corvettes were in attendance. Even more are expected this year. The group assembles at a Radisson hotel in Bloomfield Hills and then cruises about 5 miles south to the food bank en mass to drop off their donations. From there the group will cruise back north up M-1 to the Moose Preserve restaurant for a wrap up of the day's activities.
While cars are staging at the hotel there will be a DJ spinning up some tunes while people peruse the booths of C-Magic Car Care Products, Corvette Central, Galli Sports Apparel, Cruis'News magazine, the NCM, Cauley Performance Automotive, and Matick Chevrolet who will be bringing a selection of Callaways to ogle. A 50/50 drawing will take place prior to departure for the food bank. One of our sponsors, Zip Corvette, will be providing the goodie bags. Harlan Charles and the Corvette Team are bringing several new 2013 Corvettes as well.
Cars will depart for the Open Hands Food Bank about 7:30pm. A $5 bill gets you into the parking lot and entered in a raffle for a framed Dana Forester print.
Wednesday's festivities get started with 2 separate tours of the GM Heritage Center before the crowds start to gather at the starting point. Thursday's tours include the GM Performance Build Center and an evening get together at a Hooters Restaurant in Troy. On Friday, visits to the Stahl Automotive Foundation, the Webber Wildlife Museum, and Katech Performance are planned. Finally on Saturday August 18th join 1,000,000 other classic car lovers and 40,000 cars as they celebrate America's fascination with the automobile on the official day of the annual Woodward Dream Cruise. If you're interested in any of the tours be sure to contact Larry Courtney at [email protected] Some have limited space and they are filling up quickly.
Each year the Corvettes on Woodward event gets bigger and bigger. Make you plans now as groups from Texas, Canada, Pennsylvania, and even Sweden have already committed to attend. For more information on the event, click on the attached .pdf files, follow the COW thread on Corvette Forum or email organizer Larry Courtney at [email protected].
2012 Corvettes on Woodward Food Drive Poster (PDF)
2012 Corvettes on Woodward Letter and Info (PDF)
2012 Corvettes on Woodward Important Addresses (PDF)
We'll have a full wrap up of the event so check back soon.

Related:
Corvettes on Woodward Event Supports Local Food Bank
[PICS] The Corvettes of the Woodward Dream Cruise
Corvettes Heading to Flint for 'Back to the Bricks' Reunion