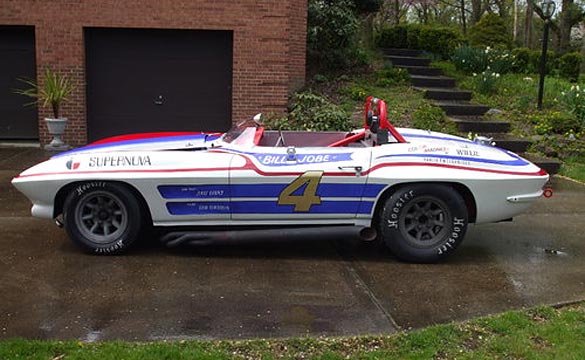 By definition, a supernova is the explosion of a star during which the star's luminosity can increase by up to 20 times and most of the star's mass is blown away at a high velocity. By our definition, a Corvette racecar can explode around treacherous racing circuits at equally high velocities. Here's your chance to buy a 1964 Corvette racer dubbed Supernova at Russo and Steele's upcoming auction in Monterey, California next month.
This 1964 fuel injected Corvette was first owned and raced by Bill Jobe who campaigned it through the 1972 season. Jobe won 2 SCCA National B production championships. He took first place accolades over 20 times as the Southwest Division Champ in 1971 and 1972. Each year he took his Corvette to the SCCA runoffs. If you read Corvette News in the early 70's, you may recall the article penned about this car.
The Supernova sat in storage for over 25 years. It remains largely in its "as raced" condition from the 1970's. The original Traco Engineering engine with Ramjet fuel injection still sits between the front fenders. The original transmission, transistor ignition, dash cluster, door panels and shifter are all there too. The power plant and fuelie unit came from a "B" production car owned by Allan Barker. The engine recently underwent a freshening by Don Yenko's Crew Chief, Warren Dernoshek. Optional J-56 brakes and Guldstrand suspension components keep the car planted to the track. Four original 8″ Minilite wheels reside in each wheel well. It still sports the original vin and trim tags under the glovebox. The race-ready Corvette comes with a current SVRA log book.
Russo and Steele's 12th Annual Monterey Auction takes place Thursday through Saturday, August 16-18th at 290 Figueroa Street in downtown Monterey. If you're not in the market for a racing Corvette you can pick up a general admission day pass for $20.
As the annual August auction frenzy approaches, keep it tuned here for a look at some of the other awesome Corvettes available this year. The list of Corvettes already consigned across all of the auction houses already has our insides tingling in anticipation.

Source:
Russo and Steele

Related:
Retired Police Officer Builds Replica 1963 Corvette Grand Sport Racer
See "The Quest" Documentary at Bloomington Gold
Mecum to Auction 1957 Smokey Yunick Corvette Racer at Indy Spring Classic