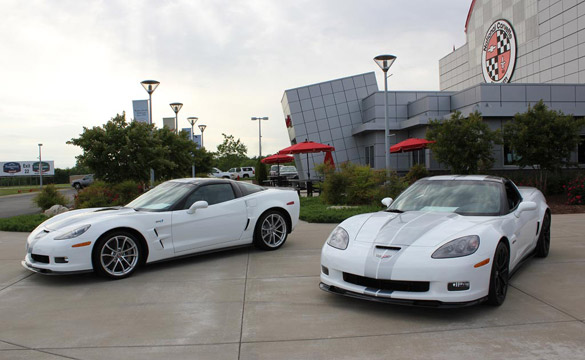 At the NCM Bash on Friday, visitors were greated with a lineup of 2013 Corvettes on display on the patio outside the Museum. The display included the new 427 Convertibles as well as a Grand Sport, Z06 and a ZR1, all in 60th Anniversary white trim.
At the end of the day, we were able to review the Corvettes pretty thoroughly. This latest batch of photos also captured the 60th Anniversary door sills and seat embroidery as well as the 427 floor mats.
Follow CorvetteBlogger's Twitter feed and Facebook page as we will be uploading photos and comments from the final day of the NCM Bash.

Related:
MSRP for 2013 427 Convertible Edition Corvette to Start at $75,925
Corvette Museum Bash Notes – Day 1
Callaway Shows Off the 25th Anniversary RPO B2K Corvette
[PICS] First Look at 2013 Corvette Night Race Blue and 60th Anniversary ZR1
[VIDEO] GM Corvette Seminar at the 2012 12 Hours of Sebring