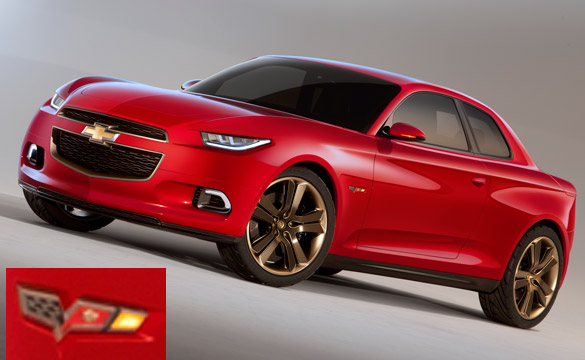 For Corvette fans, we have some good news/bad news from the 2012 North American International Auto show in Detroit. The good news is that Chevy introduced two new concept cars sporting cross-flags logos. The bad news is that neither of them is a Corvette.
First, congratulations to Chevy for today's introduction of two new coupe concepts – the Tru 140S and the Code 130R. The concepts are Chevy's attempt to lure back youthful car buyers with sporty styling at a low price.
The Tru 140S is powered by a 1.4-litre Ecotec turbocharged DOHC engine and GM calls it the "affordable exotic". Shown in an all-new matte white with Chevy performance chrome wheels featuring "crossflag emblems", the Tru 140S is designed to look confident, exotic, expensive and fast. It's based on a FWD Cruze platform and sort of reminds us of the Honda Civic coupe.
The Code 130R is the aggressive-looking red four-seat coupe RWD concept powered by the 1.4L Ecotec turbocharged DOHC engine. The coupe has what Chevy calls "heritage performance-inspired styling" which also includes the "Chevy crossflag emblem".
Chevy can call their crossflag logo anything they like, but seeing an emblem with the checkered flag and the red Chevy logo flag is and will always be a symbol of the Corvette, (regardless that the red flag is missing the Fleur-de-lis).
I thought badge engineering was a thing of the past. Putting the C6 Corvette emblem on the new concepts doesn't automatically grant them "heritage performance-inspired styling" for the same reasons that slapping a Cadillac badge on a Chevy Celebrity and calling it the Cimarron made for an affordable luxury sedan.
Reaction to the Tru and Code's new badges have been met with disdain in the Corvette community. Corvette Conti ask why would Chevy put a Corvette badge on a 4-cylinder coupe? Another friend of ours texted us last night asking what was the deal with these logos on the new coupe concepts. I reiterated GM's official line that they are part of the "heritage performance-inspired styling" cues to which he replied, "Looks boring".
While we're sure everyone at GM recognizes that the Corvette needs more youthful buyers, it doesn't start with affordable concepts raiding the Corvette's parts bin and only taking away the logos.
You can read more about the two new concepts on the General's media site.

Source:
General Motors
Related:
[VIDEO] Tadge Juechter Talks About the C7 Corvette; Calls Out Automobile Magazine for Misinformation
C7 Corvette Rumors: Is A Twin Turbo V6 In The Mix?
Corvette: The Next Four Door Sports Car?