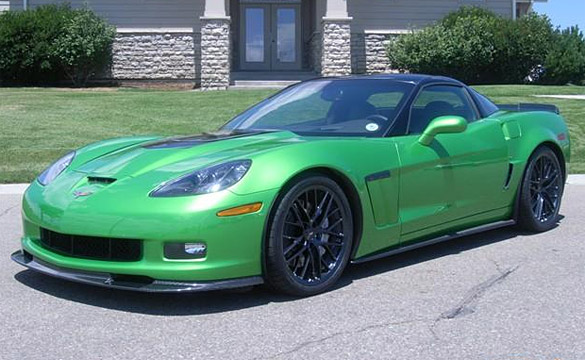 Last time we were on the subject of Corvettes painted green, we were talking Dark Bowling Green Metallic and the color similar to that which was featured on the Allstate 400 Corvette Grand Sport that ran at the Brickyard a couple weekends ago. Well, today we're going to take you the opposite direction with a color so green, you'll either love it or hate it. Here is a custom 2010 Corvette Grand Sport offered for sale by Colorado Chevy Dealer Purifoy which borrows the limited edition Synergy Green from Camaro and gets all crazy with it. You think that exterior is bold, when you see Jake embroidered on the seats, you'll be green with envy.
Purifoy started with a stock 4LT Corvette Grand Sport Coupe and had the car painted in Synergy Green with a Black tail and roof. If that's not enough for you, an Edelbrock Supercharger was added which raised the output to 600 hp. Completing the look is a ZR1-styled hood with see-through window, carbon fiber headlights, ground effects and spoiler. The ZR1-style wheels are wrapped in Carbon Fiber and outfitted with Michelin PS2 Sport tires.
Inside you'll find the same aggressive styling: The seating surfaces and door panels feature a diamond-patterned fabric that is somewhat lighter than in color than the exterior. Topping off the look is Corvette Racing's mascot Jake embroidered on headrests.
Synergy Green was first featured on a Camaro at the 2009 SEMA show in Las Vegas. The bold color combined with twin black racing stripes running down the length of the car really made an impression and GM wasted no time in offering the color on the 2010 Camaro as a mid-year special edition. The color returned for 2011 as one of the 10 colors on the Camaro palette.
Purifoy is offering their custom 600-horsepower 2010 Synergy Green Corvette Grand Sport for $99,999. Interested parties can follow the link for more information as well as view a quick video and nearly 40 pictures of the custom Grand Sport.
While we still believe that one of the colors lacking in the Corvette color palette is Green, we're not so sure this is the answer. However, Purifoy's Syngery Green Corvette is guaranteed to turn heads and start conversations wherever it goes.

Source:
Purifoy Chevrolet
Related:
GM Goes Green with Brickyard 400 Corvette Pace Car
Corvettes on eBay: 1972 Corvette ZR1 – The Rarest of all Small-Block Chevy Corvettes