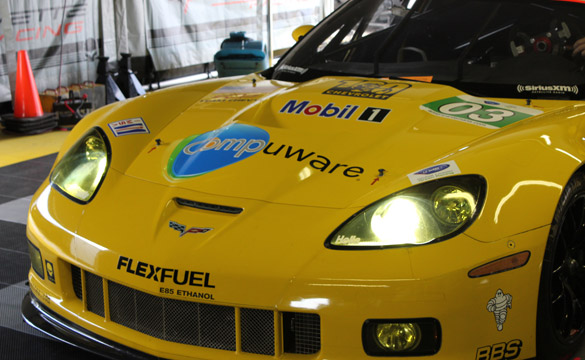 Following last week's Tech Transfer segment from Monterey that showed the flush mount headlights as a "technological" leap from track to street for Corvette, some people joked about it on twitter. Headlights are a technological transfer? Absolutely and we'll tell you why.
But first, check out the latest Tech Transfer segment from Doug Fehan and Corvette Racing that aired during the 2011 ModSpace American Le Mans Series Monterey.
From 1963 to 2004, Corvettes were equipped with rollover/popup lights, a design that ran counter to aerodynamics. Corvette Racing knew this to be true and had the C5-Rs outfitted with custom flush mount headlights.
Fehan and company knew having the pop-up lights were a drag on how the Corvettes cut through the air when traveling at a high rate of speed, especially on the Mulsanne straight at the 24 Hours of Le Mans. Other factors for ditching the pop-up lights in favor of the flush mount lights were the savings in weight and less complexity, therefore, less likely to break at a crucial time.
In 2005, the new C6 Corvettes became the first Corvette model since 1962 to have the integrated headlamps and you can thank Corvette Racing for making it happen!
Sponsored By:


Bondurant School of High Performance Driving

Related:
[VIDEO] Corvette Racing Tech Transfer: The Chassis
[VIDEO] Corvette Racing Tech Transfer: Carbon Fiber Panels
[VIDEO] Corvette Racing Tech Transfer: 2012 Corvette Centennial Edition
[VIDEO] Engineers Discuss the New Michelin Pilot Sport Cup Tires on the 2012 Corvette