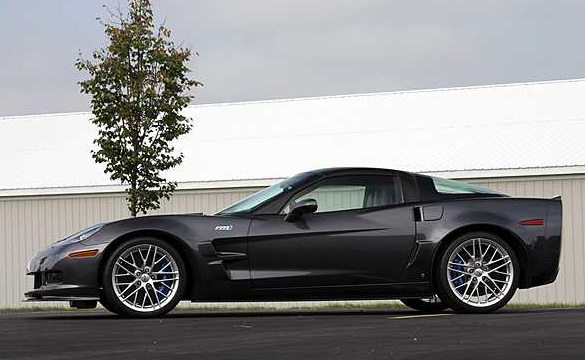 We've noted several good Corvette buys this weekend at Dana Mecum's Spring Auction in Indianapolis but I don't think anyone was prepared to see a 2009 Corvette ZR1 sell for $70,000. But that's what happened when the VIN #0006 crossed the auction block Saturday afternoon.
When the 2009 Corvette ZR1s first hit the market, early VINs were selling for $25,000-$50,000 over MSRP. The Cyber Gray Corvette ZR1 was #6 of 1415 produced so we have to believe that its original selling price was higher than the original MSRP of $118,000.
Lingenfelter Performance Engineering upgraded the Corvette's already potent 638 horsepower LS9 to 710 HP with their ZR1 Supercharger upgrade package. That includes enhancements to the Eaton Supercharger as well as a larger drive pulley, 100 mm aluminum double bearing idler assembly coupling, LPE ZR1 air intake system and an LPE 160 degree thermostat. A custom tune increased the boost to 12/13 psi and a Corsa exhaust rounded out the upgrades.
This Corvette ZR1 is not a trailer queen and has participated in several high profile events including the Hot Rod Power Tour, Corvette Funfest and at the Texas Mile in October 2010 where it ran a best time of 185.9 MPH.
Our humble correspondent Steve Burns picked the Lingenfelter Corvette ZR1 as one of his Corvettes to watch at Indy, contrasting it with a stock 2009 Jetstream Blue Corvette ZR1 that sold for $91,500.

Source:
Mecum
Related:
[VIDEO] 1965 Corvette VIN 00001 Sells at Mecum's Indy Auction
Mecum to Offer Over 180 Corvettes at Annual Indy Event