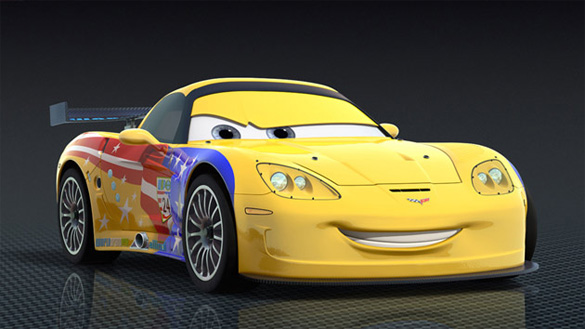 NASCAR star and Corvette owner Jeff Gordon will be featured in the upcoming Cars 2 animated movie from Pixar. Gordon will be voicing the character of a Corvette C6.R named Jeff Gorvette, one of greatest American racecars alive, according to the bio found on the official Cars 2 website. Cars 2 will hit theaters on June 24, 2011.
Jeff Gorvette's C6.R livery features the traditional Velocity Yellow base color with an American Stars and Stripes motif. He'll be wearing the #24 too as that's the number Jeff Gordon wears on Chevrolet Impala NASCAR.
Gordon (and Gorvette's) role in the movie is expected to be more than just a cameo appearance. We know he is in the Japanese World Grand Prix sequence but not sure where else he'll show up. We also know that when he is on screen, he'll be "turning hoods wherever he competes", as his official bio states below:
Jeff Gorvette is one of the greatest American racecars alive today. Donning the stars and stripes of his country's flag, the #24 Corvette C6.R has proven his ability to succeed on the big ovals and the road courses of the Grand Touring Sports circuits. Having moved from his hometown of Vallejo, California to Indiana to be closer to the racing world, Gorvette's ability to accelerate at such a young age has turned hoods wherever he competes. His championships and number of victories are unmatched, making him a respected competitor – and legitimate threat – at the World Grand Prix.
Here is Jeff Gorvette on the turntable:
Here is the first trailer from Cars 2 where you can see Jeff Gorvette in the opening race sequence.
Some are making hay out of the fact that Gordon comes from the world of NASCAR and has nothing to do with the Corvette C6.R. We think Gordon is fine for the part. As one of the most dominate racers in the sport, he successfully represents Chevrolet (albeit in an Impala) and he personally owns several Corvettes including a 2009 Cyber Gray Corvette ZR1 so his onscreen role as a Corvette C6.R is okay with us.

Source:
Disney/Pixar via Autoblog
Related:
[VIDEO] Was that a Corvette Grand Sport in the Fast Five Super Bowl Commercial?
[PICS] Transformers 3 Corvette Stingray Convertible Seen on Flickr