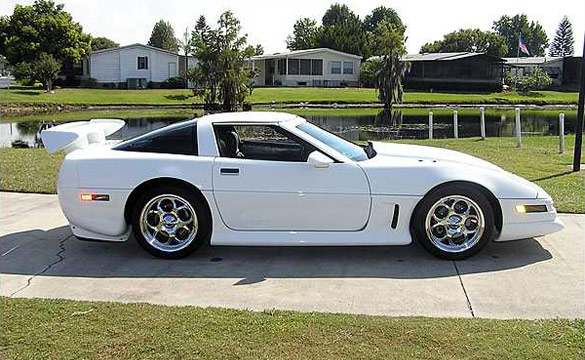 Article Contributed by Steve Burns
As we begin to catch our breath after nearly a week of Barrett-Jackson mania it's time to focus on the last, and largest of the January classic car auctions – Mecum's annual Kissimmee, Florida sale. Beginning Wednesday, January 26th and ending on the 30th, over 150 Corvettes will cross the block in search of new homes.
The Kissimmee sale began 11 years ago as an all Corvette sale and has now evolved into a 1,750 car event covering multiple calendar days. Included in this year's batch of Vettes are a 1953 roadster, a '68 L88 convertible, a '69 L89 coupe, several 427/435, as well as a number of cars formerly featured in the Bob McDorman Collection. Discovery's HD Theater will have live coverage of the event on 4 sales days. The schedule is below:
Wednesday 6:00-9:00PM ET
Thursday 6:00-10:00PM ET
Friday 6:00-10:00PM ET
Saturday 2:00-8:00PM ET
Don't get HD Theater? Then checkout the webcast on Mecum's website (Mecum.com) or grab a $15 ticket at the door.
Similar to the B-J event, we'll be picking a few of the more special Corvettes to preview over the course of the next few days. This time, we'll pick one car from each day of the auction to touch on.
Back in 1991 the 4th generation of Corvette production was midstream and adding small enhancements each year. Rounded front and rear fascias, new "sawblade" wheels, and the Z07 option package were just a few of the changes for model year 1991. The venerable L98 small block was entering its final year of production as the 4 cam LT5 entered its 2nd full year in the ZR-1. 20,639 cars were born that year on a pallet of 10 colors with Bright Red being the most popular.
Our Wednesday Mecum Lot is # W207. Since the C4's don't get much love, we thought we'd touch on this unique 1991 car. Most Corvette enthusiasts will recognize the Greenwood name from the 1970's. Lot W207 is one of three GR4 prototypes crafted by the same John Greenwood. The GR4 was a complete aerodynamic body package intended to flatter the Corvette's aerodynamic shape via a rear spoiler, ground effects, a twin nostril hood, and a few other goodies. The catalog description doesn't mention any engine modifications or special documentation so potential bidders should do some homework here.
As the 4th generation cars search for their place in Corvette history, 1991 coupes can be purchased for reasonable money in today's market. This particular 1991 could be a potential sleeper during the sale due to its rarity and famous aftermarket lineage, but its extreme appearance isn't for everyone and could hold bidding back.
Tune in to HD Theater on Wednesday around 6:15pm Eastern to watch this white coupe under the lights and in front of the camera.
Checkout the full Mecum Kissimmee event schedule.

Source:
Mecum Auctions
Related:
[VIDEO] C4 Corvette Goes Flying in New Mountain Dew Commercial
Corvettes on eBay: 1991 Twin Turbo Callaway Corvette