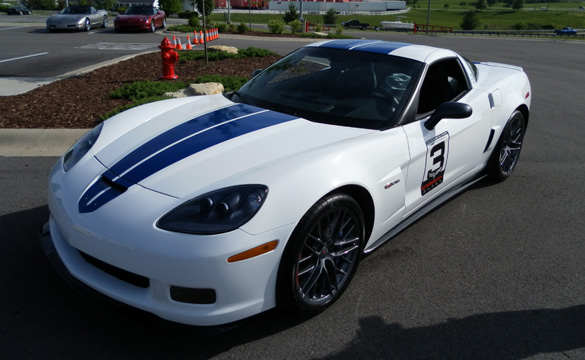 At the Corvette Museum's 2010 C5/C6 Bash, GM unveiled a special 2011 Corvette Z06 that was a tribute to Corvette's 50th Anniversary of racing at the 24 Hours of Le Mans. Painted white with blue racing stripes, the Z06 Corvette matches the livery of the 1960 Briggs Cunningham Corvette that won its class and finished 8th overall. The NCM announced today that the 2011 Le Mans Anniversary Corvette Z06 will be auctioned next week at the Barrett-Jackson Collector Car Auction and the proceeds will go to the NCM's planned 500-acre motorsports park.
The Corvette Museum's planned motorsport park will feature a complete road course designed by Corvette Racing that will feature many of the favorite elements of the legendary tracks where the team races. Located across the highway from the NCM, it will also feature an autocross course, skid pad, karting track and drag strip.
Following the 2010 C5/C6 Bash, the 2011 Le Mans Anniversary Corvette Z06 participated in a "Legends of Le Mans" event at Laguna Seca along with three historic Le Mans race cars: The 1960 Briggs-Cunningham Corvette, the 1967 Bondurant/Guldstrand Corvette, and the 1973 BF Goodrich Corvette racer as well as the Corvette C6.R GT2 car. It also made appearances at the ALMS races in Utah, Lime Rock, Mid-Ohio and Road America. The Corvette is autographed by Corvette race legends Dick Guldstrand, John Fitch and Dick Thompson as well as the 2010 Corvette Racing drivers Johnny O'Connell, Oliver Gavin, Olivier Beretta and Jan Magnussen.
The GM Design Center added many special one-off features to make this tribute Corvette very unique. The VIN #001 2011 Corvette Z06 has Competition Gray headlamps, mirrors and wheels, the heritage Blue stripes and the #3 door number similar to that found on the Z06 Carbon Edition.
Like the Carbon Edition, the Le Mans Anniversary Z06 also features the Z07 Performance Package with Brembo carbon ceramic brakes, 19" front / 20" rear 20-spoke competition gray wheels, Michelin PS2 tires, and Magnetic Selective Ride Control. The CFX Carbon Fiber package adds a black carbon fiber front splitter and rockers and the ZR1-styled rear spoiler. Inside you'll find an Ebony leather wrapped interior with Competition Gray trim.
The Corvette's catalog description can be found at Barrett-Jackson. The auction of this car will be televised live on SPEED between 7 and 9pm MST on Friday January 21st. The National Corvette Museum will be in attendance at the show with a booth by the General Motors area to answer any questions about the car and offer Corvette merchandise and raffle tickets for purchase.
Here is a short video of the 2011 Le Mans Anniversary Edition that was just uploaded to YouTube:

Source:
National Corvette Museum
Related:
[VIDEO] Corvette Racing's Legends of Le Mans
[VIDEO] Historic Le Mans Corvette Racers at Laguna Seca
Chevrolet to Salute Corvette Legends of Le Mans at Monterey This Weekend
Very First 2011 Corvette is a Tribute to 50th Anniversary of First Le Mans Win