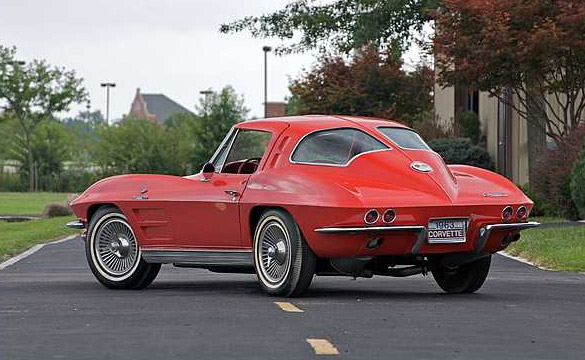 Article Contributed by Steve Burns
Today we continue our preview of the Bob McDorman Collection Auction with 4 very unique 1963 Corvettes.
Ask anyone what cars they would have in their fantasy garage and you're sure to hear "1963 Corvette" somewhere in their response. The 1963 model year saw GM unleash the all new 2nd generation Corvette. The C2 went on to become one the most recognizable and desirable body styles in automotive history.
When ordering a new Corvette that year one had their choice of 4 motors, 3 transmissions and 2 body styles. Bob McDorman's collection has 4 stunning examples tucked away. Each Sting Ray is finished in Riverside Red named after the popular raceway in California. The quartet features 2 coupes and 2 convertibles. One coupe and one convertible each has air conditioning. The remaining 2 cars have the ultra desirable Rochester Fuel Injection resting atop their 327 cubic inch motors. We'll touch on each car below.
Lot S67 – 1963 Corvette Coupe:
This highly optioned coupe is finished in Riverside Red and is complimented by a Saddle tan leather interior. Other features on the option list include air conditioning, power steering, power brakes, and knock off wheels.
Normally a car with this combination of options could bring pretty good money in this market. What may hold this car back is the fact that it was originally born in Daytona Blue paint with a black interior. Purists may not care for the new color combo, but everyone loves a bright red Corvette. This could just end up being a very good buy if you're paying attention before the gavel drops.
Lot S68 – 1963 Corvette Convertible:
This example is claimed to be one of less than 50 units produced this way. Like the coupe above, this stunning roadster also features option code C60: Four Season Air Conditioning. The desirability index goes up when you also factor in the red exterior, matching red interior, and the original Kelsey Hayes Knock off wheels.
Red on Red cars tend to bring a premium over other color combinations. Air Conditioned convertibles also are very hard to come by. Put all those factors together and you can expect some very lively bidding on this one.
Lot S69 – 1963 Corvette Convertible:
Want to go fast on a hot day rather than stay cool? If so, then his '63 roadster is for you. Visually this car is almost identical to lot S68, except for a big difference under the hood. This red on black car is equipped with a 327/375hp fuel injected motor. All that power gets to the road via a 4 speed transmission.
Chevy only made 2,610 fuelies in 1963 (12% of production) so for 2 of them to be offered together in one auction is a rarity. Again, just like Lot S68 above, expect a lot of interest in this car as well.
Lot S71 – 1963 Corvette Coupe:
If you wanted to go racing in 1963 you could just order your new Corvette and leave out the heater and the radio. If you wanted to be successful you would, of course, check off the box for the hot L84 327/360hp fuel injected power plant which this car possesses. The final installment of Bob's "Four of a Kind" is equipped (or NOT equipped depending on how you to look at it) with each of the aforementioned options. The manual brakes, manual steering, and 4 speed transmission all add up to make this a very uniquely optioned car.
Anyone looking for a '63 will have 4 excellent choices to pick from at the McDorman sale this weekend. This red on red car with a fantastic list of options should bring strong bidding from the gallery yet again.
The Auction Preview is Friday, November 5th from 8am-5pm. The sale itself begins at 10am on Saturday the 6th. The cars will be offered starting around 12pm and our beloved Corvettes will run after the Camaros, Bellaire's, Impala's, and countless other Bowties have sold. More information can be found on Mecum's website at www.mecum.com.

Source:
Mecum Auctions
Related:
Corvette Auction Preview: The Bob McDorman Collection
Mecum to Sell Bob McDorman's Corvette Collection
[VIDEO] Harley Earl's 1963 Corvette Sells for $925,000