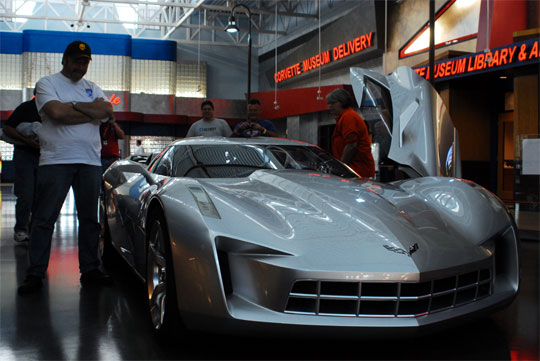 One of the many "celebrity" Corvettes making an appearance this weekend at the National Corvette Museum's 15th Anniversary Celebration is GM's Corvette Stingray Concept, better known as Sideswipe from this summer's movie blockbuster Transformers: Revenge of the Fallen.
The Corvette Stingray Concept was heavily influenced by the original 1959 Corvette Stingray Racer which will be displayed this weekend at the Museum as well. The concept made its public debut at the Chicago Auto Show n February along with four other Chevy "Autobots" who appeared in the second installment of the Transformers movie.
"In honor of the 50th anniversary of the original Corvette Sting Ray concept racer, GM Design created an all new Sting Ray Vision that is a homage to the original 1959 concept and continues the long tradition of Corvette Concept Cars," said Harlan Charles, Chevrolet Corvette Marketing Manager. "This futuristic Sting Ray vision of America's performance icon was featured as Sideswipe in Transformers 2," he added.
The Corvette Concept will be unveiled tomorrow on "Corvette Boulevard" inside the National Corvette Museum's new 47,000 square foot expansion area. The car will be displayed at the Museum until September 9th.

Source:
National Corvette Museum
Related:
[PICS] Transformer's Corvette Stingray Concept Revealed in Chicago
Corvette Museum to Display Historic Corvette Concepts
Corvette Museum to Raffle One-of-a-Kind 2010 Grand Sport at the 15th Anniversary Celebration
Technorati Tags:
Corvette | Vette | Chevrolet | Chevy | GM | 2009 | Concept | Stingray | Museum | Anniversary | Labor Day | Transformers | Sideswipe