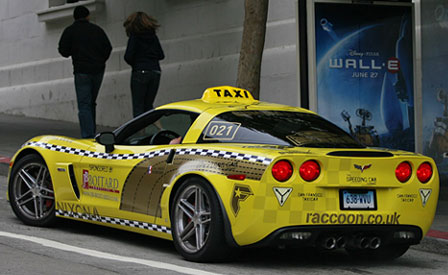 If I was ever late to catch a flight, seeing this taxi pulling up in front of the CorvetteBlogger Compound would be a welcome site. But in reality, this Corvette Z06 isn't a taxicab all. It's actually one of the 120 cars participating in the 10th Annual Gumball 3000 Rally. Gumball 3000 participants are known for plastering outrageous exterior graphics on some of the world's top supercars.
Additional photos after the jump.
The previously Black Corvette Z06 was reskinned by the UK's Raccoon auto branding company in the motif of "The Speeding Cab Company" for the rally. Here are the photos that show the car being wrapped in the parking garage of the Fairmont Hotel in San Fran as well as the finished taxicab parked down on the street.
The Gumball 3000 takes participants on an 8 day, 3000 mile road rally across two continents. This year's rally was billed as "East Meets West" as the Gumballers cruised through China and portions of the American West.
Participating in a Gumball Rally isn't cheap. For one fee of £60,000 pounds (or the price of a Corvette ZR1) all your accommodations, vehicle transportation and of course, admission to the famous Gumballer parties are all covered.
There was also a midyear Corvette Coupe participating in the rally, but I have yet to see any pictures other than a glimpse of the front clip lurking in the background. If anyone has seen a photo of it, please send it over.
Source:
Supercars.net
Gumball 3000 Related:
Royal Oak PD's New Ride: A Corvette Z06 Police Interceptor
1963 Split Window Corvette Featured in PGR4 Commercials
Technorati Tags:
Corvette | Vette | Z06 | Taxi | Gumball 3000 | Rally | Road | San Francisco