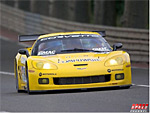 Get those TIVO's and DVR's ready. SPEED Channel will be putting four-time NASCAR Cup Champion Jeff Gordon behind the wheel of the new Corvette Z06 at Road Atlanta on Test Drive, SPEED Channel's popular program featuring host Tommy Kendall. The show is set to air Saturday, October 22 at 6pm EST.
"I had never been to Road Atlanta and I got the opportunity to drive one of the best Corvettes they've ever brought out," Gordon said on SPEED's NASCAR This Morning. "The Z06 has a lot of power, handles fantastic and looks great. I had a blast."
Footage was also shot at the famed Le Mans road course in France with Corvette factory driver Johnny O'Connell.
"This program brings together two great Chevrolet champions – Jeff Gordon and Corvette," said Ed Peper, Chevrolet general manager. "There is no better example of the interaction between racing and production than the advanced technology that is shared by the championship-winning Corvette C6.R race car and the award-winning Corvette Z06, a 505-horsepower supercar that you can drive every day."
Information about the Z06 TestDrive program can be found at SPEED Channel.