While the Corvette world's focus is on Florida for this weekend's Mobil 1 Twelve Hours of Sebring, on the other coast, the prototype 2018 Corvettes were spotted on the track in Monterey at Mazda Raceway Laguna Seca.
Chevrolet had a contingent of their performance cars in California for the track day and they were spotted by facebook user Ben Hsu who posted them to a couple of the private Corvette groups on the platform. Ben says four different Corvette ZR1s were there with two cars having the smaller wing packages and two "Big Wing" cars. Also on the track was a C7 Z06 and the new Camaro ZL1 1LE.
"I was tipped off by reliable sources that GM was testing at Laguna Seca today. All speculations are true on the ZR1. There were four ZR1s at the test, 2 smaller wing & 2 extreme aero package cars. These could very well be the first sighting in flesh on this car. Rumours to be 750hp. Also on site was a Z06 & the newly released ZL1 1LE camaro. The ZR1 sound & speed was in a different class than the Z06 & the Camaro." – Ben Hsu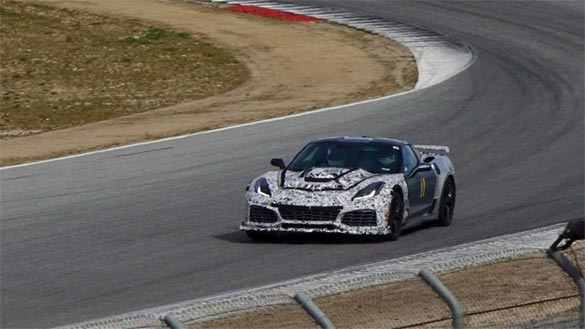 Ben also captures the sounds from the various cars. It is interesting to note that the Corvette ZR1 prototypes sound nothing like the LT4 powered Camaro ZL1 ILE that is also running with the group. I looped each segment twice so you can here each of the cars.
It's been rumored that the ZR1 will have it's own dedicated V8 engine that's a naturally aspirated dual overhead cam design. An entry recently showed up in some internal GM service documents referencing the LT5 DOHC V8 for the Corvette in 2018.

A quick search of YouTube shows these other videos from Laguna Seca as well:

Source:
Ben Hsu / Facebook

Related:
[SPIED] Mid Engine C8 Corvette with C7 ZR1s Undergoing Cold Weather Testing
[VIDEO] 2018 Chevrolet Corvette ZR1 Secrets Revealed
Internal Documents Suggest LT5 DOHC V8 Engine for the 2018 Corvette ZR1