How can we describe this heavily modified 1971 Corvette Stingray?
If you're like this writer, it probably leaves you speechless.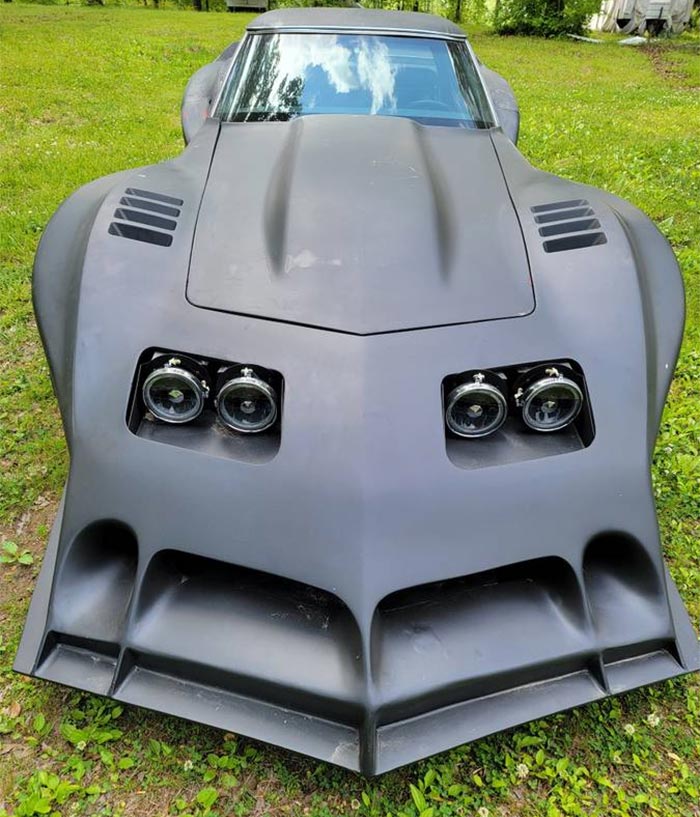 The "unique" (for lack of a better word) Corvette is up for sale or trade on craigslist out of the Huntsville, Alabama area.
If you're looking for a vehicle to scoop up snow on the street in front of your house this winter, then this Corvette's one-of-a-kind front end might just be the answer. I keep wanting to pick up this car and use it to scrape the frost off my windshield.

The car appears to have been transformed with some sort of a Greenwood widebody, maybe such a kit on steroids, with exposed headlights and fender vents up front and a wide rear end reminiscent of the mid-70s.
We aren't offered many details in the listing about the car, other than it doesn't run, despite having a new built 454 engine and transmission, perhaps because the starter is said to be bad. The interior appears to be original and in need of new carpet and a good overall cleaning, for starters.

You won't get the slick black wheels unless you shell out the owner's asking price of $18,000, though he does say he's willing to trade for a chopper or a bagged Harley – "no other cars or trucks."
What trades would you be willing to make?

Source:
Craigslist.com

Related:
Corvettes for Sale: 1962 Corvette Roadster on Bring A Trailer
Corvettes for Sale: 2019 Corvette ZR1 with 13 Miles Offered for $289,900
Corvette Assembly Plant Director Kai Spande is Selling His Big Block 1966 Corvette