ACS Composite is a top destination for Corvette owners who are looking to add the highest quality aftermarket parts and accessories to their beautiful rides. They want those parts to have the same or higher quality than the stock OEM parts, and they want to be able to install those parts without having to make major modifications to the car. ACS Composite figured out this combination early and today they offer a wide array of parts, accessories, and tools specifically designed for the C6, C7, and C8 Corvettes.
This month we are checking out the new ACS ZR1 Front Splitter for the C7 Corvette just introduced this week. We also have some other best-selling items from ACS including their C7 Z06 Front Splitter, the C7 blackout sidemarker kits, and we'll take a look at a special tool designed to protect your C7 and C8 Corvette's lug nuts and wheels.
ACS C7 ZR1 Splitter
This week ACS Composite introduced their new C7 ZR1 Front Splitter and it's their most aggressive and performance-driven splitter offered for the C7 Corvette! Derived from the ZR1's ZTK aero package, the ACS ZR1 splitter has been adapted to fit the C7 Stingray, Grand Sport, and Z06.

When designing the ZR1 front splitter, ACS makes use of the OEM mounting points and existing holes for installation, so no drilling or additional modifications are needed. The splitter features two supports to offer a fully reinforced bottom and uses the side deflectors for additional support. The best news is that the installation is fully reversible!

They say that bigger is better and the ZR1 front splitter has the largest surface area of any C7 splitter manufactured by ACS. But being bigger doesn't mean you have to sacrifice ride height and drivability. The ZR1 Front Splitter actually offers a better ride height and angle of attack vs the GM Z06 Splitter so you'll be able to tackle those steep driveways and inclines with confidence.

The ACS ZR1 Splitter for the C7 is manufactured from PC Composite which was chosen for its durability and scrape resistance. It's coated in Carbon Flash Metallic so it will match your front grille, hood vend, fender inserts, and rear diffuser, as well as any other CFZ components on your Corvette.

ACS Composite is offering the C7 ZR1 Splitter for $1,149.00 and shipping is free! Check out the installation video as Jonathan from ACS presents the ZR1 splitter first before beginning the installation.
ACS C7 Z06 Splitter
General Motors spent a considerable amount of time in aero-testing the C7 Corvette Z06's aerodynamic kit for the Z07 Performance Package. ACS has taken that Z06/Z07 splitter and redesigned it in CAD and CNC machined it from the ground up with slight improvements over the original design and the end result is a clean-looking, durable, and functional aerodynamic splitter that will benefit the front of your C7 Corvette Stingray as well as the widebody Grand Sport and Z06 models.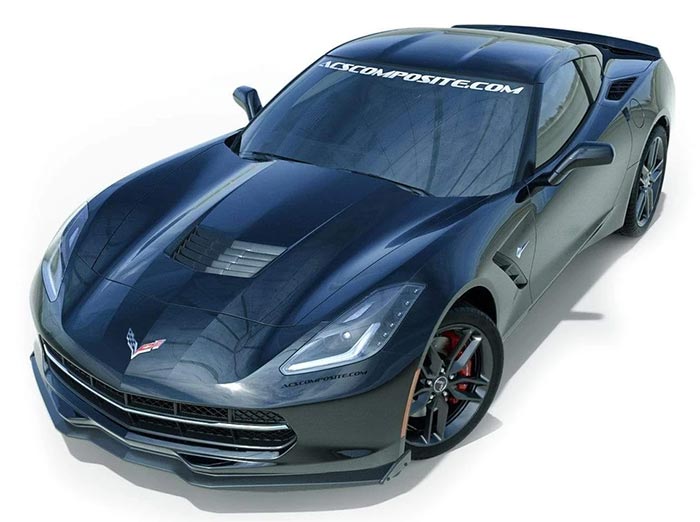 The ACS Z06 Front Splitter is made from PC Composite which is a manufacturing process generally reserved for high-volume production parts. These black molded splitters offer high strength and durability, as well as resistance to heat and scraping which makes them perfect for mounting on the front of your C7 Corvette. If durability is important to you, the ACS Z06 splitter helps minimize curb rash and mild road hazards. ACS describes it as the last Z06 Splitter your Corvette will ever need!
The C7 Z06 Splitter also features an optional undertray for those track warriors looking for the ultimate aerodynamic performance from their cars. The integrated undertray option enhances the aerodynamics by keeping all edges smooth and directing air with a minimum amount of turbulence. The undertray also has revised brake cooling ducts and features extra mounting points with linear fins to keep the air flowing smoothly as possible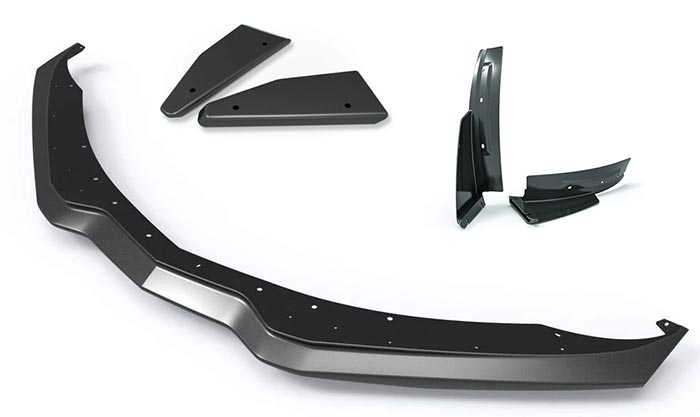 But wait, there's more! The C7 Z06 Front Splitters were highlighted with the Stage 2 and Stage 3 deflectors on the corners which deflect and reduce the airflow off the end of the splitter. The Stage 2 deflectors are smaller and more conservative than the larger Stage 3 deflectors, and the OEM deflectors can be used with the ACS C7 Z06 Front Splitter.

The ACS C7 Z06 Front Splitters are available for the C7 Corvette Stingray as well as the widebody Grand Sport and Z06 models with a starting price of $499.00 and shipping is free! An installation video is also available on the ACS Composite YouTube channel.
C7 Black LED Sidemarker Reflector Kit
Want to give your C7 Corvette a sleek and stealth-like appearance? Check out the C7 Black LED Sidemarker Reflector Kits which transforms your ordinary red and amber side and rear bumper markers with an OEM quality smoked acrylic for that blackout look.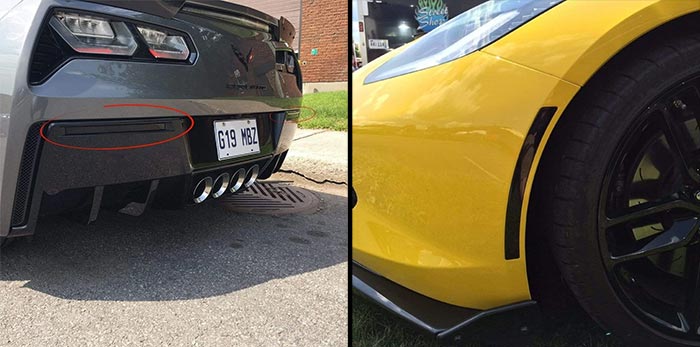 Other blackout kits use flimsy films that peel or bubble over time. The ACS C7 Black LED Sidemarker Reflectors are molded in black acrylic to OEM specifications and are resistant to fading or cracking. The complete replacement kit includes six pieces:
(2) Front Smoked Acrylic side markers with amber LEDs
(2) Rear Smoked Acrylic side markers with red LEDs
(2) Rear Smoked Acrylic bumper reflector marker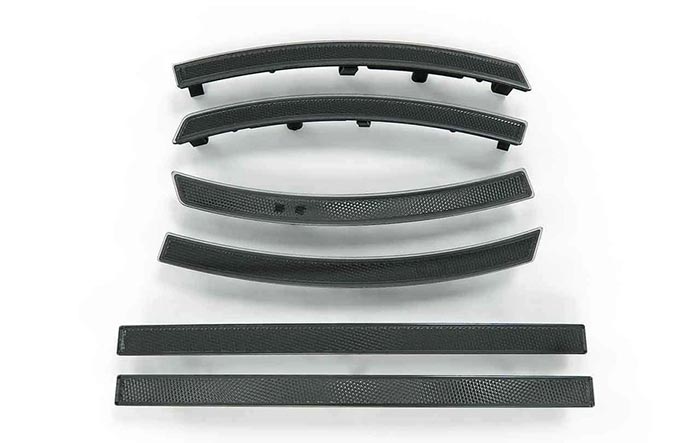 ACS Composite is offering the C7 Black LED Sidemarker Reflector Kit for $399.00 which includes free shipping. Check out the Installation Video for a better look at how the sidemarker kit transforms the looks of your C7 Corvette!
C7 and C8 Wheel Lug Nut Socket Tool
Protect the finish of your C7 and C8 Corvette's wheels with these non-marring lug nut sockets. These unique sockets feature a built-in extension and a non-marring core and sleeve that helps to prevent damage to the lug nut and wheel. The socket is 6-inches in overall length and designed for use with a 1/2-inch drive.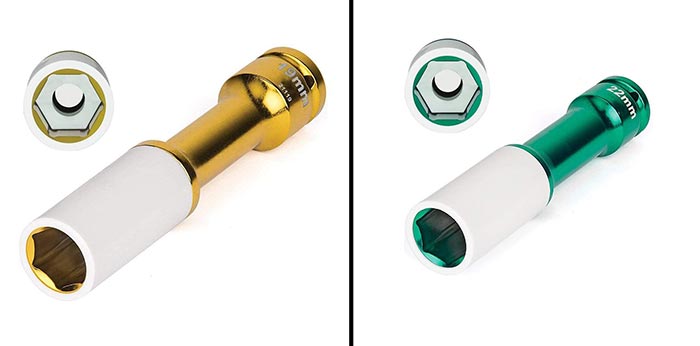 These non-marring lug nut sockets from ACS are sized in 22mm for the C8 Corvette or 19mm for the C7 Corvette. Constructed from chrome-moly for added strength, they are color-coded with an attractive finish that makes them easy to find in your toolbox.
ACS Composite offers the C7 and C8 Wheel Lug Nut Socket Tool for $49.00 each.

Source:
ACS Composite