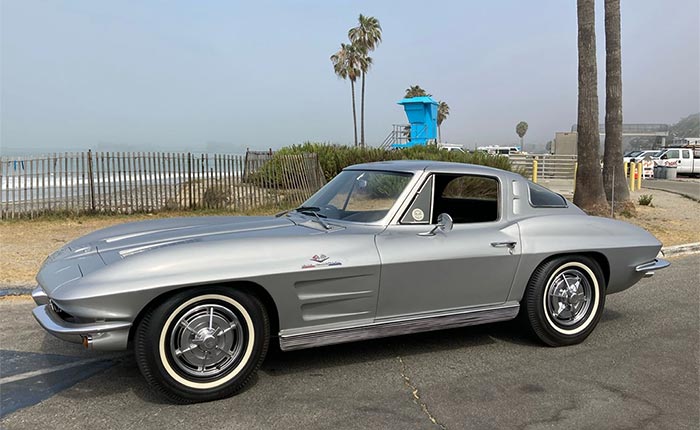 It's not one of the 2,610 Corvette Sting Rays that left the St. Louis factory during the '63 model year, boasting the 327/360 horsepower fuel-injected engine.
But somewhere along the way, this split-window coupe picked up a Rochester fuel injection system and has recently undergone quite a bit of mechanical work.

Despite the lack of originality, perhaps that care shown over the past 58 years has increased the interest in this Sting Ray that's already attracted a high bid of $71,500 on Bring a Trailer, with six days left in the auction.
The car was originally Ermine White when it was delivered new to Southwest Chevrolet in Chicago, Illinois but has been in the Southern California area for the past 45 years. Another owner had it repainted to its current shade of Sebring Silver sometime in the mid-1970s. While the paint still looks good from a distance in photos, close-up shots do reveal scattered chips, cracks, and scratches picked up through the decades.

The engine was also upgraded with the Rochester fuel injection system back in the '70s, but unlike the paint job, it's been rebuilt five years ago by Automotive Expertise Unlimited of Huntington Beach, California when the block was decked and Magnafluxed, the cylinders honed and bored, and a cylinder head crack repaired.
Likewise, some work has been done on the four-speed manual transmission, with the installation of a new second gear in 2008, apparently about the time the current owner of the past 13 years bought the car. He also replaced the headlight wiring harnesses in 2016, installed a new radiator, fuel tank, sending unit, and exhaust system in 2017, and also repaired a tear in the driver's seat at some point.

A couple of videos with the listing show the vacuum-operated, hidden headlamps working properly (though the passenger side is a little slower up and down than the driver's side), and a test drive gives prospective owners a chance to see the car performing admirably on the road.
While this Corvette isn't perfect, it's still one of just 10,594 Sting Ray coupes that were made in 1963, and don't forget, it has that once controversial but now highly coveted little piece of fiberglass splitting the rear window!

Source:
bringatrailer.com

Related:
Corvettes for Sale: C7.R Tribute 2015 Corvette Z06 Offered on Bring A Trailer
Here Are Our Three Favorite Corvettes for Sale by Corvette Mike in September
Corvette for Sale: 1969 Corvette Barn Find Project in Southern California