Our friends at ACS Composite want you to get the most out of your Corvette with their line-up of high-quality products that provide great looks and improved performance. They have been on fire with their recent product developments on the new C8 Corvette and today we are excited to share their latest aerodynamic splitter for the C8 Corvette.
Today's highlights also feature these must-own accessories designed to protect your Corvette when its at the shop or if you're doing your own maintenance in your garage. Believe us when we say you will not want to get caught working without them.
ACS 1VM C8 Front Splitter
Corvettes were made with aerodynamics in mind and the C8 Corvette, in particular, was meant to wear a front splitter, so why are you going without one on your 2020-2021 Corvette? The ACS 1VM C8 Front Lip Splitter was created as an intermediate splitter between the entry-level 3-piece OEM Z51 Splitter and GM's 5VM Splitter, so it's more aggressive than the Z51 spoiler, but a bit more conservative than the 5VM. It's a one-piece design that eliminates visible seams and also foregoes the winglets on each corner to give it a sleek, wraparound fit.
1

The 1VM C8 Front Splitter is made from PC Composite which is a manufacturing process generally reserved for high-volume production parts. These black molded splitters offer high strength and durability, as well as resistance to heat which makes them perfect for mounting on the front of your C8 Corvette.
1

These intermediate 1VM splitters are finished in Carbon Flash Metallic (CFZ) to match the other Carbon Flash pieces on the car. Installation is identical for both base Corvettes equipped without a front splitter, or those that are equipped with the Z51 splitter. The 1VM utilizes the same mounting holes as the OEM Z51 splitter so its just a matter of removing the T15 screws already on the front of the car, adding the splitter with just four to five screws in place but not tight so you can properly position it, and then tighten those up and then add the final screws to complete the install. ACS offers an installation video on their YouTube channel that covers the process and provides an easy reference guide.
ACS Composite offers the 1VM C8 Front Splitter for $499 and shipping is free.
C5-C8 Corvette Jacking Pucks
Experienced Corvette owners know that jacking pucks are a must and you can't assume that your local tire shop or repair facility has them. Jacking pucks offer a secure and solid lifting point and without them, you can do costly damage to your Corvette's rocker panels. ACS Composite offers Jacking Pucks that fit with all OEM factory side skirts and ACS Composite Corvette side rocker panels. The best news is that they are left in after install, so you can set and forget once they are in place.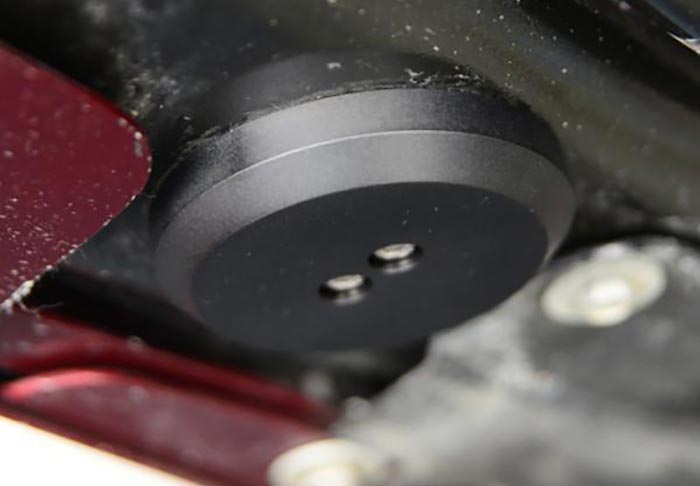 ACS Composite's Jacking Pucks are machined from solid heavy-duty aluminum and are coated in Red, Black, or Blue metallic finish. They can be installed on all C5, C6, C7 and C8 Corvettes and fit all models from Stingray and Grand Sport to Z06 and ZR1. If you've seen those horror stories of cars falling from lifts due to jacking or lifting the car from the wrong points, the colored Jacking Pucks provides an easy sight reference for those unfamiliar with the process.

Installation is a snap with a supplied Allen wrench, no drilling is required. Once installed, the Jacking Pucks offer a 2.5″ diameter lifting surface. They are just 0.5-inches thick and can also be easily removed. ACS offers an installation video as well.
The set of four Corvette Jacking Pucks from ACS Composite cost $99.00 and shipping is free.
C7 & C8 Corvette Wheel Stud Extenders
Removing the wheels on your C7 or C8 Corvette can be a back-breaking experience, not to mention that you can do damage to your brake calipers or costly carbon ceramic brake rotors. Whether you are removing your wheels for maintenance or detailing, these 200mm (7.8″) Corvette Wheel Stud Extenders provide added confidence during the process.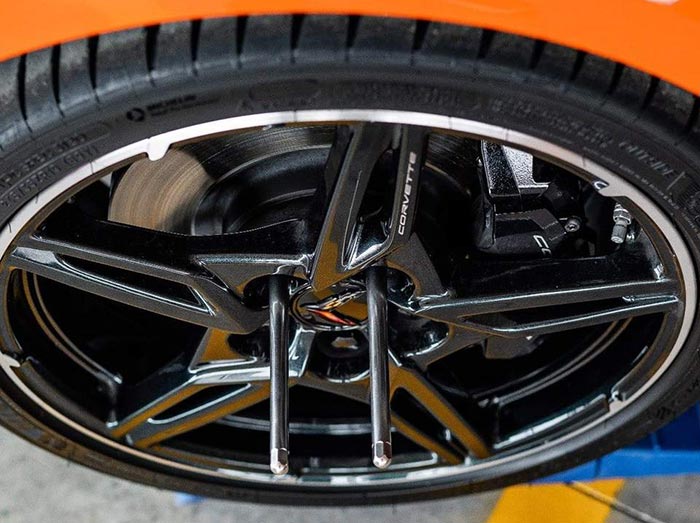 The Corvette Wheel Stud Extenders are used to extend the Corvette's wheel studs with a stainless steel female-threaded guide. Remove your top two lug nuts and then screw these extenders and you will find the process for removing and replacing your wheels to be so much easier and you'll have peace of mind that the wheel won't drop on your calipers or rotors.

ACS offers the Wheel Extenders for $99.00 and free shipping is included. Make sure when ordering that you are specify wheel studs extenders for the C7 Corvette or the C8 Corvette as the thread wheel studs are different sizes. A YouTube video showing the Corvette wheel extenders in action is also available.

Source:
ACS Composite