You've got to spare 35 minutes out of your day and watch this video posted by Dennis Collins on his YouTube Channel, Coffee Walk.
In his latest post, Collins and his two kids, Alex and Kelsey, head out to a longtime friend's house where they wind up buying a trifecta of vehicles from Frank Marino – a 1967 Marina Blue Corvette convertible with factory air, a 1969 white Corvette convertible, and a nice low-mileage white H2 Hummer.
What makes the Corvettes so special is that they're still considered one-owner vehicles, with Marino never having transferred the titles from the original purchaser.
"We both sold and traded cars back and forth," Dennis recalls of their relationship, "and he called me this week and said, hey, I am about to retire, and I am going to my ranch, so I've got two special Corvettes, and one of them I bought from you, but I don't remember when."

Actually, the '69 exchanged hands between the two men 28 years ago and has remained in top-notch condition ever since, even cranking up without a struggle when Kelsey drove it onto their enclosed trailer after the deal has been sealed.
But it's the '67 that is the real star of this video. Be sure to watch the whole post to see Frank's moving story about how he got the car up and running again so the original owner could ride in it before he passed away from complications due to Agent Orange exposure. After his death about a year later, the owner's wife showed some pretty slick negotiating skills to sell the car to Marino.
When Collins bought it, the car was covered in dust and had a few bad places in the paint on the driver's side and a slight separation in the driver's seat, but remains in remarkably good survivor condition overall, especially the undercarriage that was immaculate for a 54-year-old car. It's also one of just 3,788 Sting Rays equipped with air conditioning out of a total production run of 22,940 units that year.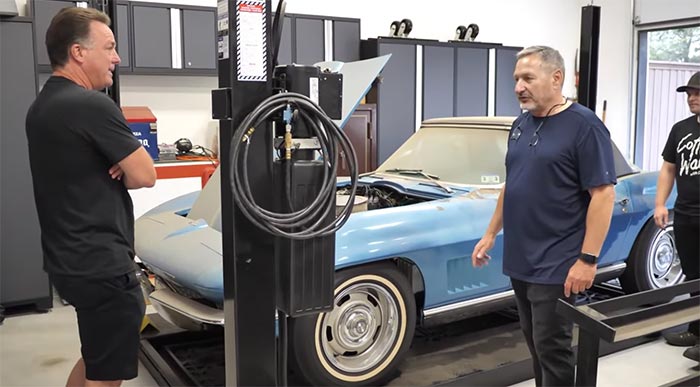 Collins & Family head to Marino's service station, a fixture in Texas for about decades, where they pick up tons of original documentation about the '67, along with the original well-worn spare tire!
Once they arrive back at their facility, the Collinses continue to be impressed with the '67.
"What a cool car," Dennis says. "It's always nice when the car gets back to the shop and the story gets better instead of getting worse – so this is one of those kind of cars. The longer you look at it, the longer I look at it, the happier I am I bought it. A lot of times you get one back, whoo, why did I buy that?"

Source:
YouTube

Update
Our title was updated to correct Dennis Collins's name.
Related:
1969 Corvette For Sale Spent Entire Life with GM Employee Who Designed the C3 Door Handles
Nino's 1967 Corvette Makes the Journey from Barn Find to Bloomington Certification
One-Owner 1963 Corvette Still Going Strong