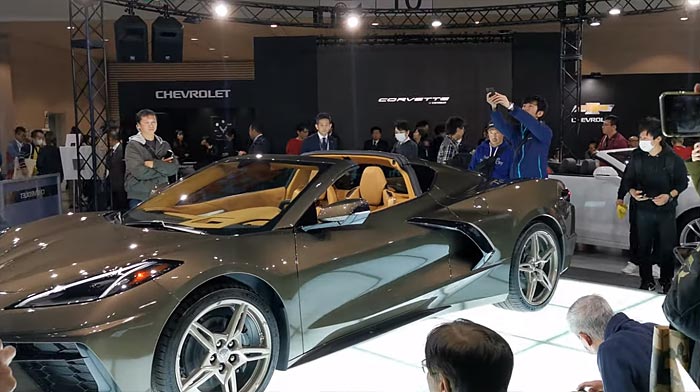 We told you a few days ago that the new mid-engine Corvette appeared to be a big hit when it was unveiled at the Tokyo Auto Salon.
Now comes word that Chevy has already tripled its sales in Japan, with Yahoo Japan reporting that in the first 60 hours of taking reservations, the company has already received 300+ orders, up considerably from the 101 front-engine 2019 models sold there.
It appears that GM's decision to offer right-hand Corvettes overseas for the first time is paying off, despite the fact that only 2 percent of all car sales in Japan are said to come from American automakers and despite the significantly higher price tag for the new Stingray in that country, some $91,000 for the entry-level 1LT model as compared to $59,995 in the U.S.
"The age group varies from the 20s to the 70s. The locality is not particularly characteristic of Corvette and there are many urban areas like Tokyo, Nagoya, and Osaka like other Chevrolet cars," a GM Japan spokesperson told Yahoo Japan.
The price in Japan jumps to 11.18 million yen ($101,845) for the 2LT model, and to 14 million yen ($127,534) for the 3LT.
The car will basically be the same as the American version, with the same 495-horsepower V8 and eight-speed dual-clutch transmission but of course, with the steering wheel and gas and brake pedals moved to the right side of the interior.
At the Tokyo show, high praise from the president of GM Japan, Tadashi Wakamatsu, foreshadowed the Corvette's subsequent sales success when he noted, "We have a car here that gets inspiration from both an F35 jet fighter and an F1 race car. That great design, the all-new mid-engined V8 power, 0-60 mph in 3 seconds, and an appealing price tag is generating tremendous buzz in Japan."

Source:
motor1.com via Yahoo Japan

Related:
[PICS] The 2020 Corvette Stingray Was a Hit at the Tokyo Auto Salon
[PICS] The 2020 Corvette Stingray Was a Hit at the Tokyo Auto Salon
Five Special Corvette Grand Sport Admiral Blue Heritage Editions to be Exported to Japan