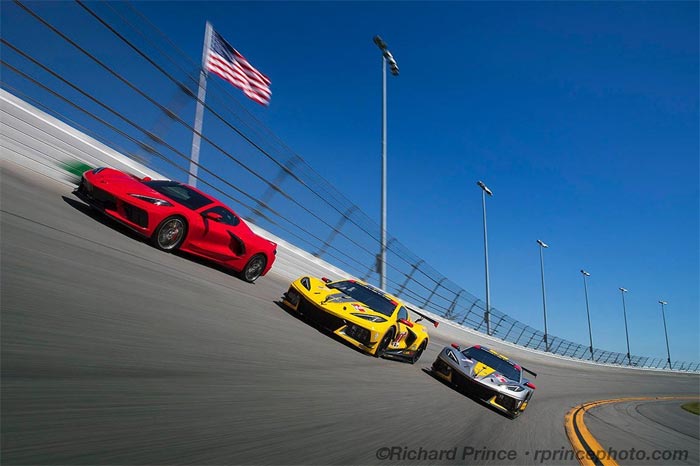 Who's excited for Corvette Racing this year! It's a brand new year with two brand new cars, and even a few brand new drivers!
The new Corvette race cars have arrived in Florida and the racing action kicks off tomorrow for three days of testing at Daytona known as the Roar Before the 24. You can see the official schedule of events here.
We've been sharing some of the various photos of the C8.R Corvettes that have been posted by team photographer Richard Prince, and now we've got a great one to share showing the Torch Red 2020 Stingray Z51 Coupe on the high banks of the Daytona International Speedway along with the factory racers.
I'll be at the track on Saturday and look forward to seeing the new cars in action. We'll then be back later in the month to cover the full Rolex 24 at Daytona race weekend.
From Richard Prince via Facebook:
Corvette Racing 2020 – we are on the threshold of the next great chapter in Corvette history, thanks to strong, visionary leadership at Chevrolet and GM, the talented and dedicated people who design, engineer, develop, build and sell theses cars, the equally talented and dedicated people who race them and bring home the wins and championships, and the incredibly loyal enthusiasts around the world who love these cars – you are the Corvette Nation, and you are the driving force behind it all. #madeinamerica #racedaroundtheworld #corvette #corvetteracing #carphotography #carphotographer #richardprincephotography

Experience tells me that my expectations about the new Corvette racers should be kept in check as it may take a little time for the new car to get sorted. Still, after all these years of the mid-engine Corvette's development, it's hard not to be excited about those possibilities when the green flag drops.

Source:
Richard Prince

Related:
Corvette Racing at Daytona: Start of a New Era
[PIC] C8 Corvette with C8.Rs at Daytona International Speedway
[PIC] First Look at Corvette Racing's No. 3 C8.R in Yellow/Silver Livery