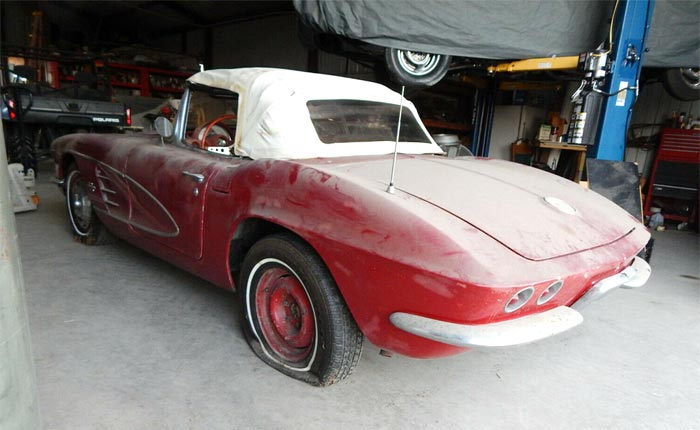 If you're looking for good bones to build a classic C1 Corvette around, you might want to check out this barn find '61 in Durant, Okla.
Interest has already been high since this car debuted a few days ago on eBay, with 31 bids meeting the reserve at $24,000, but the price still has plenty of time to climb since the auction doesn't end for another four days.

This Roman Red roadster has been sitting since the early 1990s but apparently was properly stored all those years by the previous owner and was a fairly easy fix to get going again.
The seller touts the car as "an excellent restoration/Restomod Project!"

That could be true for one reason in particular. It's no longer a numbers-matching vehicle since the original engine has been replaced by a 1962 Chevrolet Corvette 327 CID 340 HP Block (3782870/FO611RE). A more powerful crate engine sounds like a reasonable option for the new owner.
Or he/she could just decide to save their money and drive the car as-is since this 4-speed Corvette is already said to run and drive well after undergoing some minor updates mechanically.

The brakes have just been replaced, including the master cylinder, wheel cylinders, and shoes and drums turned. Also, the fuel tank has been purged, and new fuel lines installed.
The result is a vehicle that starts, runs, drives, and stops, according to the seller.

The birdcage and frame are said to be in "great" condition, with no apparent rust, while the body is decent other than some minor fiberglass damage to the front passenger side headlamp area. The interior, meanwhile, is lacking the radio and needs a complete restoration.
What do you think? Would you leave this baby as-is, restore it to original condition, or turn it into a wild resto-mod?

Source:
eBay via barnfinds.com

Related:
Corvettes for Sale: Psychedelic 1961 Corvette Found North of the Border
Corvettes on eBay: Lightly Customized 1961 Corvette Barn Find with Two Tops
Corvettes on Craigslist: Moss-Covered 1961 Corvette Was Parked for 40 Years