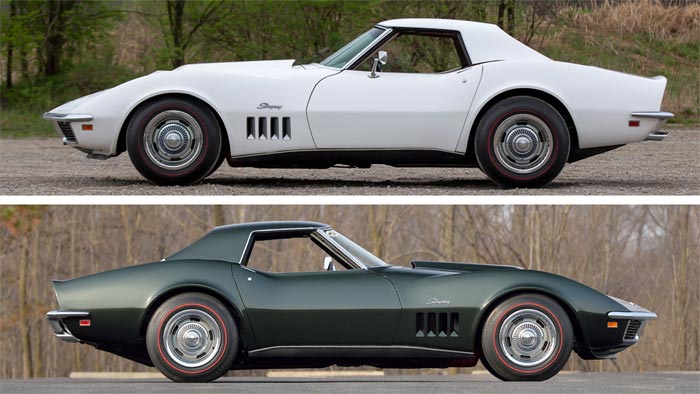 Great things come in pairs: Twix bars, turbos, driving shoes, and even L88 Corvettes. Mecum Auctions recently added this pair of 1969 Corvette L88 convertibles to next month's docket in Indianapolis. The 2 rare Corvettes will be offered together as one lot. Odds are this pair will cost much more than that last Twix bar you bought from the candy machine down the hall.
Chevrolet built just 116 L88 equipped Corvettes in 1969 with a fraction of them being convertibles. All cars got the honking 427ci L88 motor, J56 heavy duty brakes, F41 heavy-duty suspension, and transistor ignition. A radio was not available as the 560hp thumping between the front fenders was all the sound you'd need.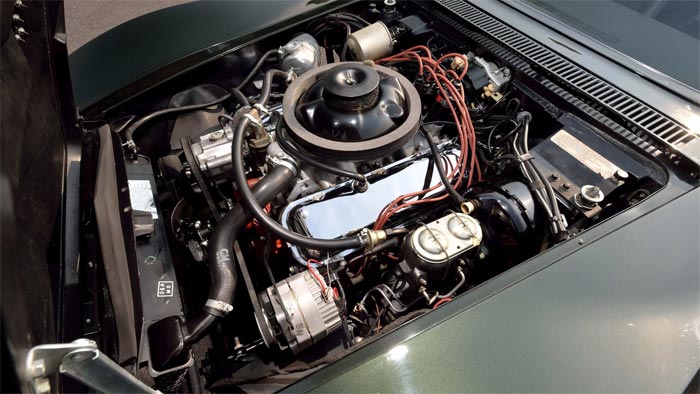 Each of the L88's being offered have been restored to high standards and are excellent examples of the breed. Bidding on 2 at the same time offers a unique opportunity to acquire 2 of the most desirable Corvettes out there in one shot.
Here's closer look at Mecum Indy Lot S180:
1969 Green / Green L88 Convertible: M22 4-speed, rare heater, matching hardtop and redline tires. Sold new in Leslie, MI and later taken on a 6,000-mile road trip to Alaska and back. Formerly of the Vance Shappley collection and participated in the 1988 and 2008 Bloomington Gold Special Collections. Documented with the tank sticker.

1969 White / Saddle L88 Convertible: matching numbers, F41 suspension, M22 4-speed, hardtop and redline tires. Highly awarded with Bloomington Gold Certification, NCRS Top Flight, NCRS Performance Verification, and Duntov Mark of Excellence accolades. Documented with the tank sticker.

Each of these L88's look to be veterans of recent Mecum auctions where they didn't meet their individual reserves. The Fathom Green car last went through Mecum Phoenix in March where it did not meet reserve at $451,000. Previously it bid to $500,000 at Mecum Dallas in 2018. The Can Am White car last ran through Mecum Kissimmee this past January where it bid to $400,000 without selling. It last changed hands at Mecum Monterrey in August 2018 for $451,000.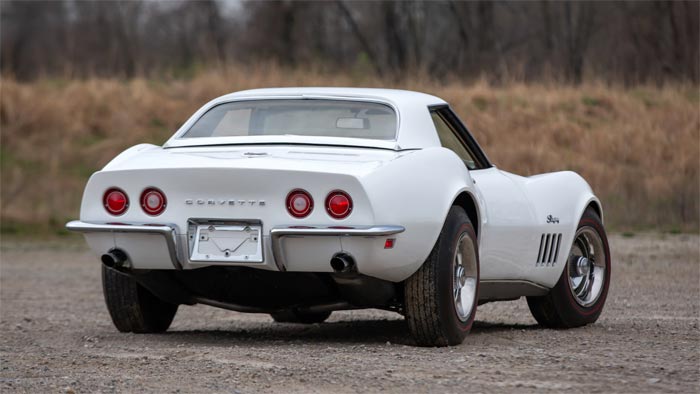 Mecum has a presale estimate of $750,000-$900,000 on this great pair of Corvettes which is pretty much in line with the sum of their most recent high bids. Will someone be willing to pay more than that for 2 Corvettes? We'll see when they roll across the Mecum red carpet on Saturday, May 18th.
The Mecum Indianapolis Auction runs March 14th – 19th at the Indianapolis State Fairgrounds. Stay tuned here for more Corvettes being offered at Indy as the sale draws nearer.

Source:
Mecum Auctions

Related:
[VIDEO] Kevin Mackay's L88 Corvette/World's Fair Display at MCACN 2018
Collector Offering First and Last Corvette L88 Convertibles for Sale
[VIDEO] Watch This In-Car View of a 1969 Corvette L88 at Daytona's Classic 24 Hour