A metro Detroit springtime tradition is now just a couple weeks out. The Lingenfelter Collection's annual Spring Open House will take place on Saturday, April 27th from 10am to 5pm. Cost is just a cash donation at the door. Once again, the event will be supporting cancer research with 100% of the proceeds going to the American Cancer Society.
"We are once again very happy to be partnering with the American Cancer Society for our Spring Open House," said Ken Lingenfelter, owner, Lingenfelter Collection and Lingenfelter Performance Engineering. "Working with the organization over the years, we have learned so much about their programs and the many people they help. We look forward to seeing some of those people each year, as well as many car enthusiasts and community residents interested in supporting the work of the ACS."
Since 2016, the Lingenfelter Collection Open House has raised more than $100,000 for the American Cancer Society.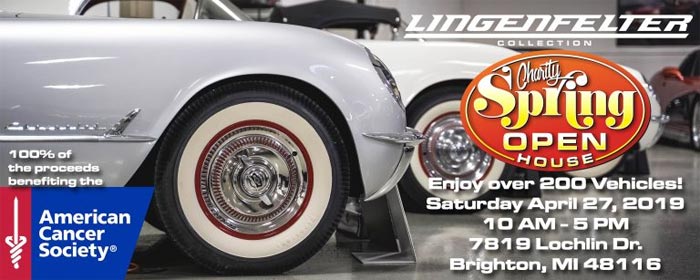 In addition to Ken's 40,000 square foot collection of 150-200 cars you'll also be able to see two new racing simulators, their 1,000hp Camaro and 1,000hp Corvette, the Corvette Dream Giveaway cars, and the Sport Chevy Silverado.
Additionally, attendees will be able to register to win door prizes, get a free poster autographed by Ken Lingenfelter, and hear him fire up the Ferrari Enzo. Poster signings are from 1:30-2pm and 3:30-4pm. The Enzo startup is at 3:15. Tony's Dogs will provide food and drink options throughout the day.
"We are so thankful for our continued partnership with the Lingenfelters and their ongoing support of our mission," said Blythe Moran, Executive Director of the American Cancer Society in Michigan. "The donations raised at this event will be put to work to save more lives from cancer, including supporting cancer patients with programs and services, funding lifesaving research and helping prevent cancer in our community and across the nation."
The 2019 Lingenfelter Collection Spring Open House will take place Saturday, April 27th from 10am-5pm. No tickets or reservations are required. Just show up and have fun! The collection is located at 7819 Lochlin Drive, Brighton MI.

Source:
The Lingenfelter Collection

Related:
[PICS] The Genovation GXE at the Lingenfelter Collection Spring Open House
[VIDEO] Lingenfelter Collection Features a 1965 Corvette with a L78 396/425 hp V8
CorvetteBlogger.com Visits the Lingenfelter Collection